Am I an artist?  No, I think of myself as somewhat artistic, often creative, lover of photography, a crafty decorator, but I can't call myself an artist. An artist is someone driven by the passion to create, share, and live supporting themselves in the art world.  Which is not easy…in a world that wants everything to download, for free of course.
As the director of tourism here in Johnston County, it has been my mission (and privilege) to tell our stories to the world. Yes, we have interstates, hotels to serve visitors driving through, great Eastern-style BBQ, an abundance of outlet shopping, history and museums – but, frankly so do many other destinations. What makes us unique are our stories!  Only we can tell the story of Ava Gardner being discovered by MGM and becoming one of Hollywood's most famous actresses. Only Johnston County can announce we have the largest Civil War battlefield in NC, and only we can introduce you to The Cornbread Man, a.k.a., Ray Wheeler of Atkinson's Mill.  Now, we can claim we have world renown artists and remember one as well.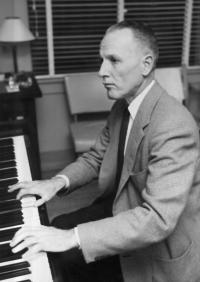 Our BLOG series "Johnston County Has Talent", has told many stories about young up-and-coming artists like Abby Stephens, Rebekah Todd, and Amanda Daughtry.  But in October, we have a chance to look back at renowned international composer Hunter Johnson, who hailed from the Benson area known as Elevation.  And in a unique way, many of us may hear his music for the first time. Until I was involved in designing the Benson Museum of Local History, I had never heard of Hunter Johnson who was a prominent composer from our county, and North Carolina's first Composer Laureate. Now his music will once again be performed, and by another Johnston County star composer, Jonathan Levin.  Clayton Piano Festival Video
Jonathan Levin, the creative director of the Clayton Piano Festival, with the help of soprano Elana Gleason, will perform one of Hunter's pieces, "Letter to the World". This Piano Concerto is based on the life and poetry of 19th century poet Emily Dickinson and has been performed worldwide more than 500 times. On Thursday, October 26th at the Preston Woodall House, the 6th Annual Clayton Piano Festival will kick off the season with the American Portraits concert which will include this tribute to Hunter Johnson. 
American Portraits - Musical Glimpses of America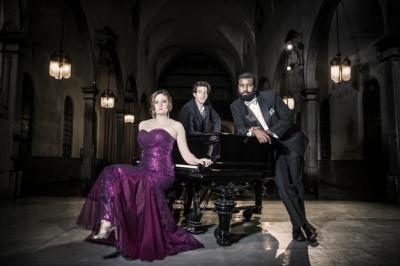 American Portraits is a cross-section of the greatest American music which speaks most closely to the history and culture generated by the southern states.  The program tells a story through selections inspired by folk songs, spirituals, poetry from the Civil War era, classic American musical theatre and jazz influences and much more.  The music touches on areas of national pride, racial struggles, conflicts of war and reconciliation, with the overarching theme of peace and unity.  Dynamic performers and collaborators, Tyrone Chambers, Elana Gleason and Jonathan Levin have created a unique program that gives the audience a personal glimpse into some of America's greatest musical traditions.  These internationally acclaimed artists, all of whom have lived in or grown up in the south, provide a fresh perspective on their own cultural heritage through a tremendous variety of music, from timeless masterpieces to rarely heard gems.
Tickets: $45 general, $35 seniors (65 and above), $25 children 12 and under (dinner, concert, reception), $15 General (concert only), $5 Children 12 and under (concert only)
Tickets are available to purchase online at www.claytonpianofestival.org, at http://www.brownpapertickets.com/event/3049954