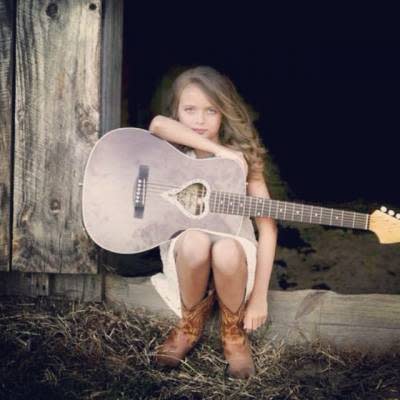 Johnston County has a young aspiring talent in 11-year old Abby Stephens from Benson...maybe she'll be the next Carrie Underwood or even Taylor Swift.  Abby loves to perform country, Christian, classic rock and pop music too.  She is currently writing her own songs and she performs at area festivals and events.  Keep your eye on Abby, as she just recently appeared with Bob Dumas (and captured his heart!) on G105 Bob & the Showgram.  She is very poised and has a precocious personality and tons of Southern charm for such a young singer.
Abby discovered her love for music at the age of seven and began voice and piano lessons. Her music teacher encouraged her to audition for Clayton Idol Junior a local singing competition.  This was her first time singing for an audience and competing.  She will tell you when the lights hit her, "it was the best feeling ever" (her words). She went on to get first runner up and went back the next year and won! Winning Clayton Idol Jr. propelled Abby to continue to learn music through piano & guitar. She soon discovered she enjoyed putting her thoughts to music. With the help of her mom, she penned her first song, "Carolina Girl".
At the age of eight, Abby began performing at various local sporting events. She is honored to have performed the National Anthem for the Durham Bulls, Carolina Mudcats, Southern National Speedway, Charlotte Motor Speedway, Atlanta Motor Speedway, Blue Knights, and many other events.
Abby has performed at the Country Music Showcase at Johnston Community College in addition to many local festivals and other events. She opened for Amanda Daughtry this summer at Cary's Booth Amphitheatre during the Raizin A Ruckus season.  In 2014 she auditioned for America's Got Talent and received an initial call back, she is hoping to make it thru to the next round. She was honored to be nominated for Youth Artist of the year by the Carolina Music Awards and she was mentioned on the Bobby Bones Show, B93.9.
April Stephens, Abby's mom, doesn't call herself a soccer Mom, but a singer/songwriter's mom, and will continue to support Abby's dream as long as she loves it. Please feel free to contact her for future events at 919-625-0211 or email AbigailBStephens@yahoo.com 
We hope she continues to love it and one day makes it to Nashville, TN.