Craft distilling has been a growing industry across North Carolina for many year's now. Benson-based Broadslab Distillery has been offering tours and tastings since March of 2015. The tasting room is located right off I-95 in Benson, NC near the intersection of I-40 and I-95. This makes Broadslab convenient from the Triangle if you're looking for things to do in Raleigh or you want to expand your tour of Raleigh distilleries. Broadslab is also a part of the JoCo Beer, Wine, & Shine Trail.

Jeremy Norris operates Broadslab with his wife Shelly - it's a family business! Jeremy is what we would dub the "real deal", with a back story about growing up in a family of moonshiners in a community known for the trade. Jeremy was raised by his grandfather, and helped him on the farm for many years as he ran a produce stand there at the house, now the tasting room.  His grandfather's heart and hands and spirit tended the land and his shine stills once dotted the landscape back before Jeremy was born.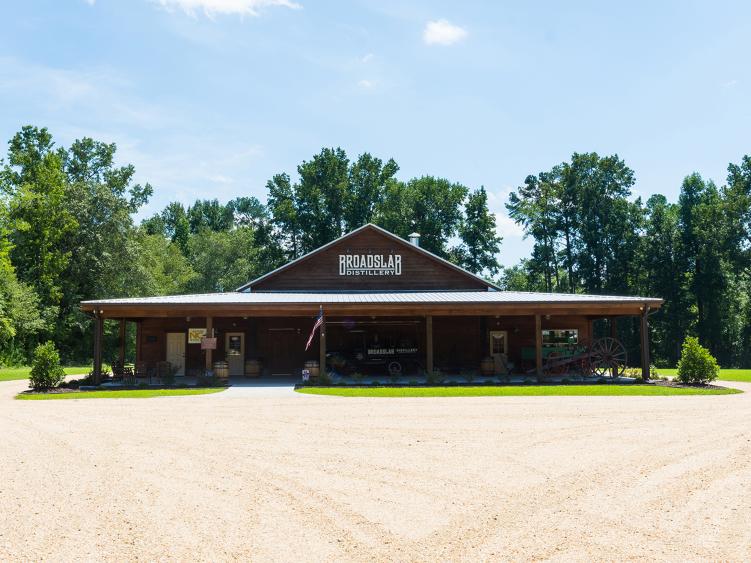 The Broadslab recipes are the embodiment of a 5 generation legacy and were passed down by the great-great grandfathers on both sides of Jeremy's family. One of them, William "Bill" McLamb, was active in the dawn of the moonshine trade and distilled smooth, sipping whiskey long before prohibition. But it was Jeremy's grandfather, Leonard A. Wood, who eventually passed on the family recipe. Once moonshine became legal in NC Jeremy saw the opportunity for his family to turn a lawless legacy into a labor of love operation. His grandfather Leonard finally agreed to share his knowledge, recipes, and oral shine history. And so they toiled together, perfecting the process and arguing between decades of tradition and modern techniques. As Jeremy's mentor and personal advisor, Leonard was integral in building the Broadslab still, but passed away before opening.

In 2022 Jeremy will be debuting his first new product in many years: flue-cured bourbon. The product has been in pre-production throughout 2021 and Jeremy is currently building a rickhouse on the property which will hold 1,150 barrels; it should be complete before summer. He plans to take the barrelled bourbon he's been processing and will start flue-curing it in tobacco barns this coming summer. Flue-curing is an age-old drying process used on tobacco that involves intense heat; the barrel gets put in that environment with the tobacco and the heat thins the viscosity of the bourbon and builds pressure; it speeds the process (adding color, flavor, and aroma in a shorter amount of time). He hopes to release the first bottles at the end of this year.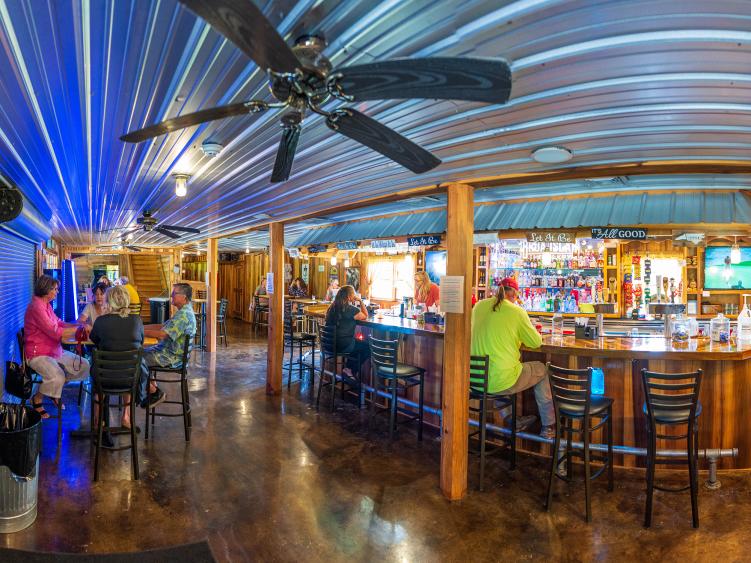 As far as Jeremy knows, he is the only distillery in the state that is growing the grain, harvesting and processing it, and making it all with natural ingredients. If you're standing in the Broadslab tasting room, you're standing on the land that the corn in your whiskey was grown on. The hand-crafted love that goes into every step in the process is one ingredient. From "dirt to bottle", Jeremy is the engine behind the process putting that drink in your hand.

Jeremy has also worked over the last few years to purchase land around the original farm to own and grow the farm his grandfather loved so much.  Jeremy has roots in the land like many other Johnston County farmers. The distillery sits in the footprint of many of his stills on the family farm outside Benson, NC. In addition to a new product, Jeremy is also a few months away from unveiling accommodation options near his beautiful wedding venue The Barn at Broadslab. The house, which has 4 bedrooms and 2.5 baths, and the apartment, with 1 bedroom and 1 bath, should be ready by spring of this year.

The Broadslab tasting room sits just off the road and is now also a local hangout thanks to updated state laws regarding alcohol. Jeremy can now offer mixed drinks with his product in them. Instead of just offering tastings after tours, he can operate more as a traditional bar as well. Thursday through Saturday patrons can find not just drinks, but food trucks and live music, making Broadslab a great place to hang out for more than just a tour and tasting.