If you're looking for a date night activity in the month of February to celebrate Valentine's Day, then look no further. Johnston County has wine, chocolate, romantic horse rides, delicious dinners, and musical performances. Find your perfect date below. 
Evans Jewelers Sweets, Treats, & Sparkles
Everyone who comes to enjoy wine tasting and jazz music will receive a 1ct cubic zirconium, but one lucky winner will receive a Forever Us, Diamond Two-stone ring!
February 5th from 5:00OM-8:00PM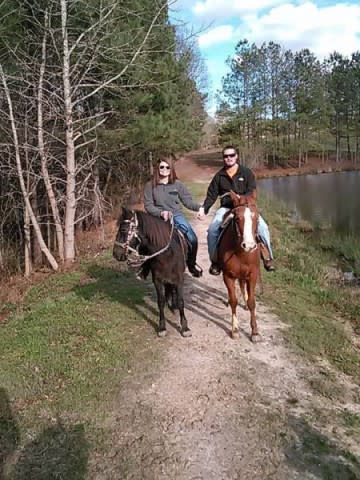 Black Creek Hill Farms Valentine's Day Couples Trail Ride
Includes a private guided 1 hour trail ride for two. Afterwards you will be served a simple picnic lunch with beverage of choice.
February 13th at 10:00AM
Spend an evening with Franc D'Ambrisio
Acclaimed as the world's longest running phantom, enjoy interpretations of Franc's favorite Broadway hits including pieces from The Phantom of the Opera.
February 13th at 8:00PM
Valentine's Day Dinner and a Show at Hinnant Vineyards
Memories Are Made of This, a Valentine's Dinner & 50's Musical Tribute Show. Each ticket includes a full course meal, the show, & a glass of wine.
February 13th at 6:00PM
The Clayton Piano Festival presents the 4th Annual Valentine's Day Gala at Brick & Mortar
Ticket price includes dinner, drinks, concert, and dessert.
February 13th at 6:30PM
Truffle Making Class at Gregory Vineyards
Enjoy a fun fill afternoon of learning to make your own decorated molded chocolates & ruffles while enjoying the delicious wines of Gregory Vineyards.
February 14th, classes begin at 11:00AM, 2:00PM, and 6:00PM
***A special truffle making class is being offered at 1:00PM and includes a voucher for dinner at Lane's Seafood & Steakhouse. 
The Night of the Iguana at Neuse Little Theatre
Written by Tennessee Williams and also made into a 1964 movie starring Johnston County native Ava Gardner, this play promises conflict, humor, and steamy romance.
February 19th-21st and 26th-27th, show begins at 8:00PM

Deep River Beer Dinner with the Wandering Moose food truck
Come join Deep River for their first ever beer dinner at the Deep River Taproom. With each ticket you will receive 5 beers and 4 courses of mouth watering food.
February 24th at 6:30PM