If you've visited a shop in downtown Benson recently or were inside someone's home in the area, you may have noticed a curious smell — sweet, tangy, salty, refreshing, warm, inviting. Follow your nose and it will most likely lead you to Benson's own C.A. Homestead and their popular line of candles. 

C.A. Homestead is Angel Sanchez and Chris Davis, two crafty fellows that decided to use their downtime to start a business in 2013.

"We didn't really go out much and we wanted to find something fun to do at home and also make some money," said Mr. Sanchez. "We used to burn these big brand candles. I had one on the mantle and it left a bad black soot mark. We did some research and found that it was a paraffin candle — which are made as a petroleum byproduct."

There had to be a better way to make a candle, he continued, and as it turns out, there is — soy. 

"Soy doesn't soot up and it doesn't turn black," explained Mr. Sanchez. "Any soy candle is a better alternative to paraffin because it is cleaner and better for the air we breathe. It's made from the hydrogenation of the soy bean."

After establishing a line of scents, the two set up at their first craft fair — Mule Days. 

"I think we took three cases and we thought that was too much," said Mr. Davis with a chuckle.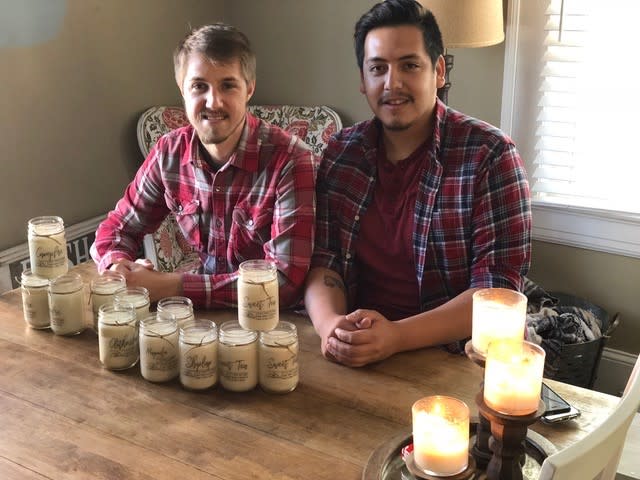 It turned out not to be enough. 

"Those first six months we were just giving them away to people and a lot of (research and development). Once we got our formula down and label we brought everything to Mule Days," said Mr. Sanchez. "That day we sold out. We thought we would sell a couple here and there, but we sold out."

From that first Mule Days, C.A. Homestead candles saw something of a whirlwind in popularity, eventually leading to the attention of Our State Magazine, which featured the brand on its website store in 2015, and being featured on Time Warner Cable's "Made in the Carolinas" segment on television shortly after. 

Mr. Sanchez and Mr. Davis said that recognition really helped to drive sales. 

Today, C.A. Homestead is selling a brand new line of candles. 

"Right now, we just came up with our 'Mason,' line said Mr. Sanchez, pointing to a stack of 12oz mason jar candles with scents like "Sweet Tea," "Shiplap," and "Clothesline."

There is also a smaller 9oz "tumbler" line.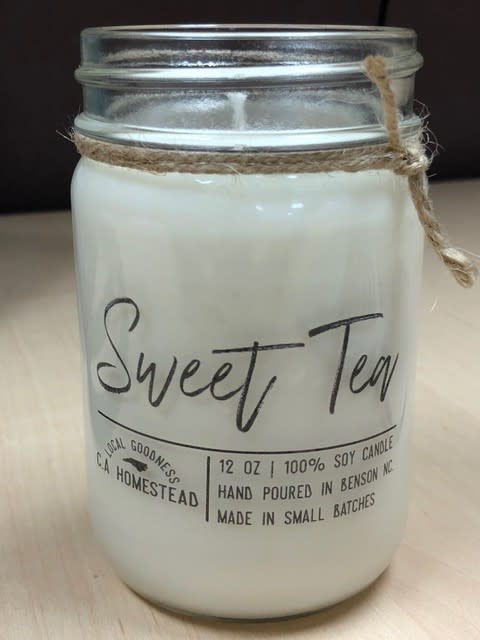 "We basically mix scents together to create something new. Like the 'Sweet Tea' scent. That's one of our most popular ones. It has a nice sweet twang to it and there are also berries in there," said Mr. Sanchez. "We wanted scents that would trigger memories. We have an Outer Banks candle that smells beachy, 'Clothesline' that smells like when you used to help your Grandma, you know." 

With the success of their candle line, Mr. Sanchez and Mr. Davis are looking forward to expanding their C.A. Homestead brand to include kitchen items and home decor. 

"We're in the process of branching out. Before, all we did was make candles. Now, it has built itself into a whole brand," said Mr. Sanchez. 

"We wanted to combine what both of us were interested in. I love to cook so we have been uploading cooking videos to our C.A. Homestead Youtube channel. We try to get one recipe up there a week," added Mr. Davis. 

"Plus, a lot of our friends that we met making candles, their brands are what we're going to bring in. We have a friend that makes a spicy relish for instance — all products that we use and love as well," continued Mr. Sanchez. 

C.A. Homestead candles, as well as other products, are available through their official website — www.shopcahomestead.com. Candles can also be purchased at Rebecca's Vintage Market in downtown Benson, Uwharrie Mercantile in Troy, Grounds Café in Wendell, and Sweet Tea & Cornbread in the Crabtree Valley Mall in Raleigh.