The many downtowns throughout Johnston County have an impressive and growing collection of mural art by local and regional artists. Some simply gorgeous to look at and some interactive in a way that invites you to be a part of the work. All of them have interesting things to do nearby from shops to restaurants, to coffee shops, to parks, and more! So come for the art and stay for whatever else our downtowns have in store for you. At the bottom of this blog you will find an interactive map that will give you directions to each mural.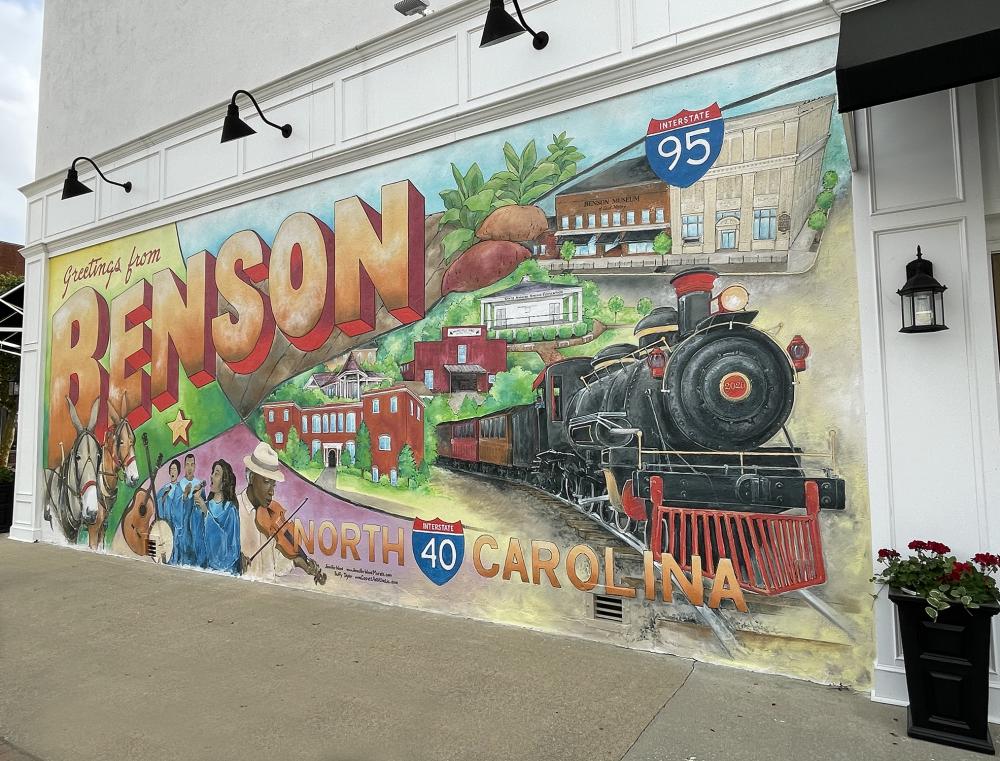 "Greetings from Benson" Mural - Benson

The Town of Benson recently completed  its first commissioned mural, by artist Jennifer Wood and partner Buffy Taylor, from Raleigh and Pittsboro respectively. The mural is located on the side of the Neighbors & Associates building along Main Street. The two were chosen following a "call to artists" in June put out by the Benson Art Advisory Board.  After sifting through some very talented artists from across the state, the Board ultimately chose Wood and Taylor for their spot-on rendering of the desired theme — a vintage inspired postcard.  

The Town encourages everyone to stop by the mural located at 104 E. Main Street and snap a photo. If you're planning to post your mural selfie on Instagram, Facebook, or other social media platforms, be sure to use the hashtags #ilovebenson and #bensonlovesart. Plus, grab a bite to eat just across the street at Cornerstone Café or shop the many local boutiques along Main Street while you're in the area!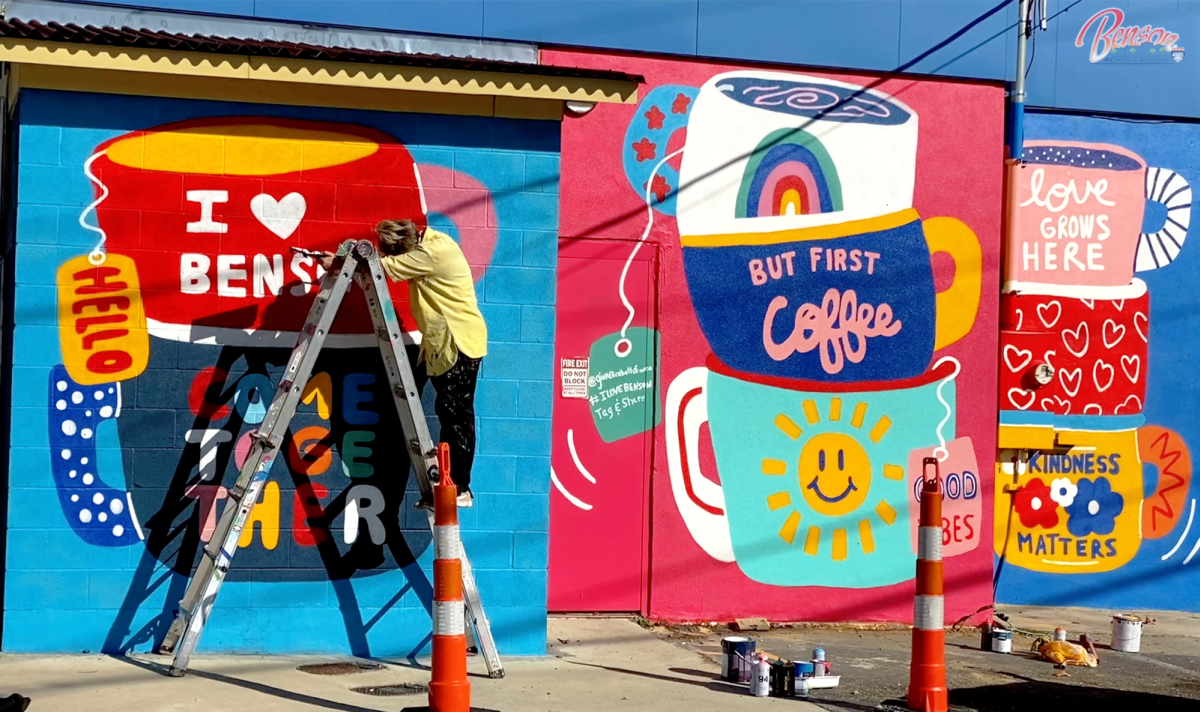 The Coffee Cups Mural - Benson

The mural can be seen coming into town just off the interstate on the Main Street facing wall of the Exxon gas station and The Grind coffee shop and creamery (605 East Main Street). It's hard to miss with its bright reds, deep blues, sunny yellows, and pops of pink and teal. Greensboro artist Gina Franco painted the mural. 

"I use a lot of text and typography," explained Franco. "It's really important for me that people interact with (the mural). I like to create moments where people can use it as a background for pictures and selfies. Interaction is a big part of the style."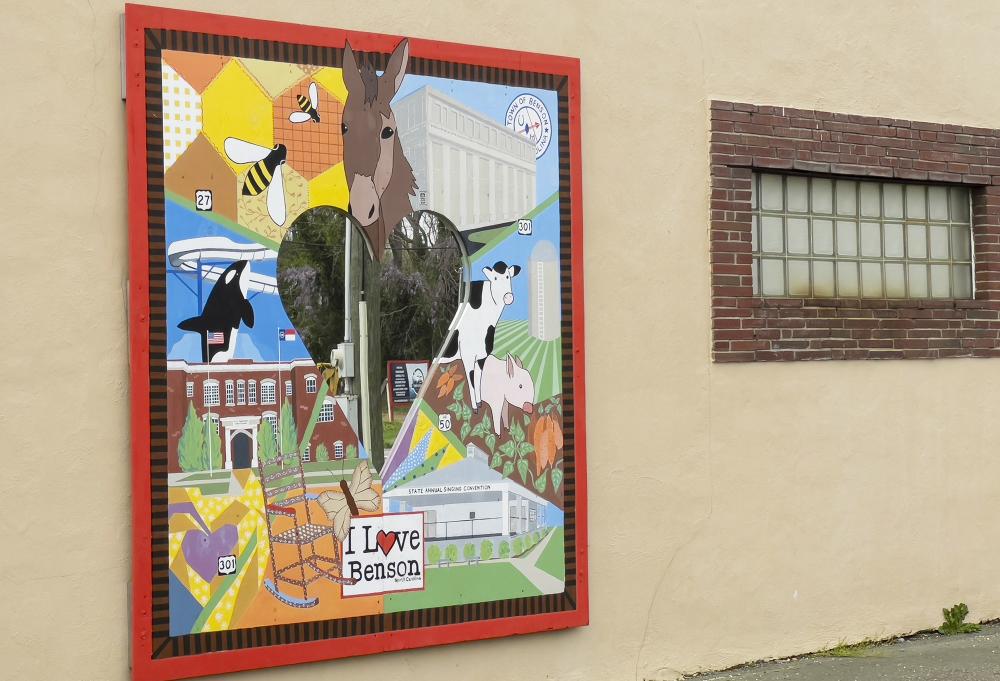 Benton Card Company Mural - Benson

Have you ever taken a mirror selfie? Give it a try while looking into your reflection at the very center of this unique mural located on the side of the Benton Card Company building at 105 S Wall Street. Named the "Community Mural", it represents the past, present, and future of the Town of Benson. Using the "I Love Benson" theme, a heart was cut from the center and a mirror placed inside.

Students at Benson Middle worked with local community artist, Markus Tracy, to create five magnificent murals in the school and in the community, this one included. The students were able to work with Tracy after the school's art teacher, Magen Pike, received a grant from the Artist in Education Residency. Markus Tracy holds a Bachelors and Masters Degree in Fine Arts; he emerged as a
community artist primarily working on large-scale murals, creative placemaking, and urban intervention projects, which he has organized and completed throughout the United States.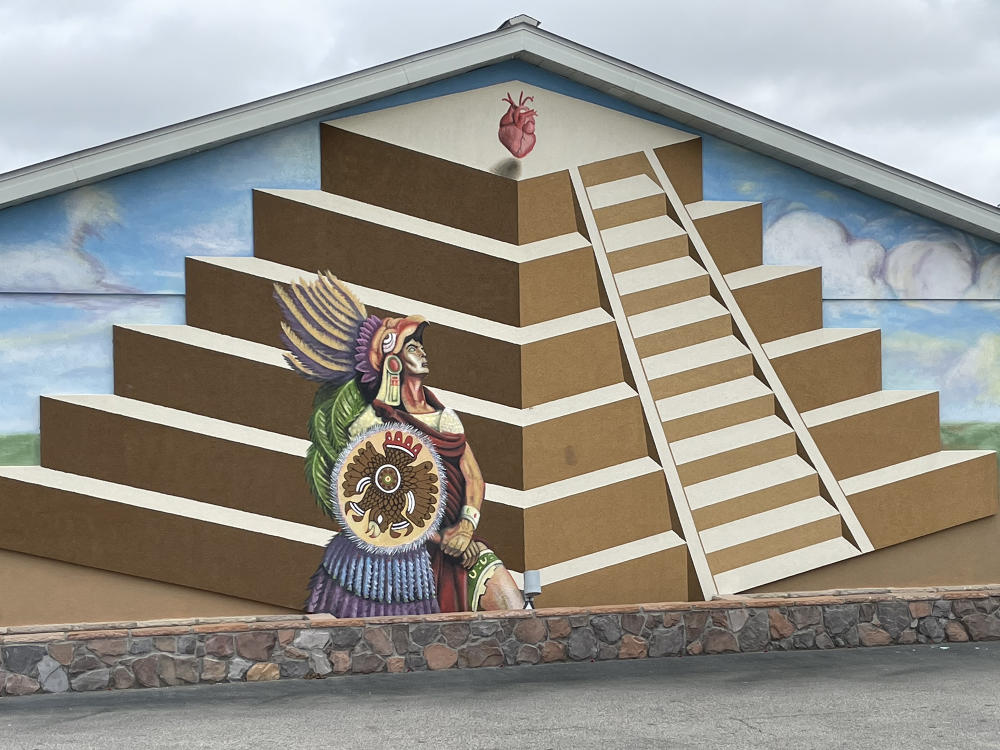 El Charro Mural - Benson

Possibly an ode to the ancient indigenous cultures that inhabited Latin America a millennia ago. This mural is beautiful and a surprise find on the south side of the building. Located at 709 S Wall Street.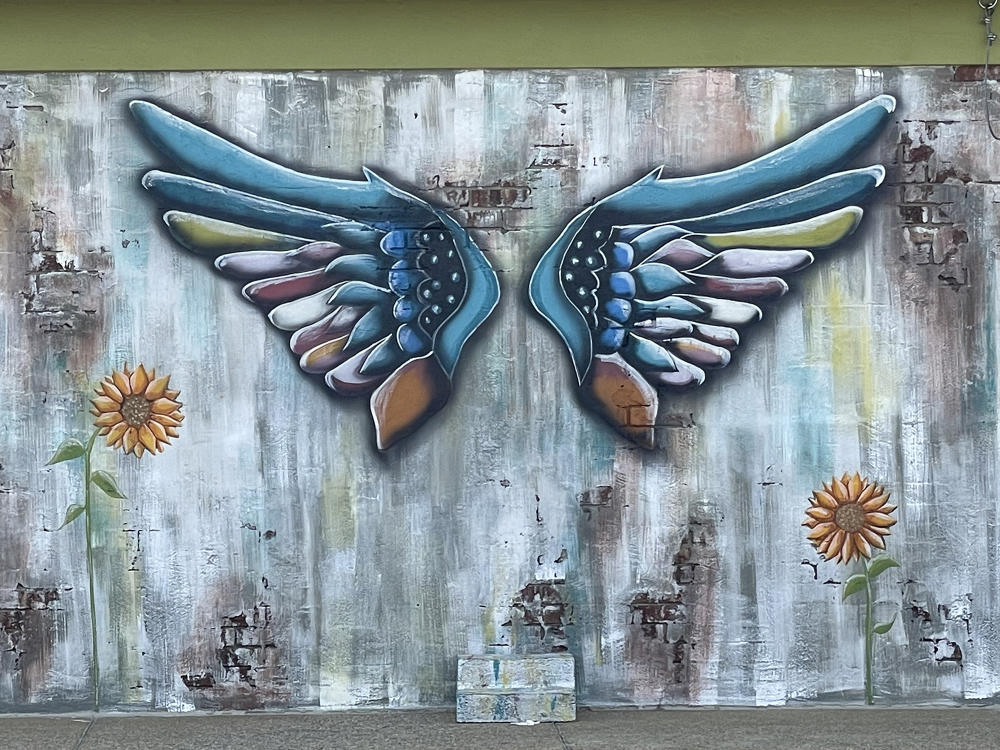 Fiesta Mexicana Wings Mural - Benson

Eat a delicious meal at this locally-owned establishment and then be sure to pose with these lovely blue wings. Located at 702 E. Parrish Dr.
Clark Hipolito Mural - Clayton 

Clayton is still buzzing over its latest mural, by Clark Hipolito of The Art Company. Watch the video above from the Town of Clayton for more information on the art and the artist. The building the mural is on contains some super buzzworthy businesses in the downtown area - The Cardinal and Crawford Cookshop.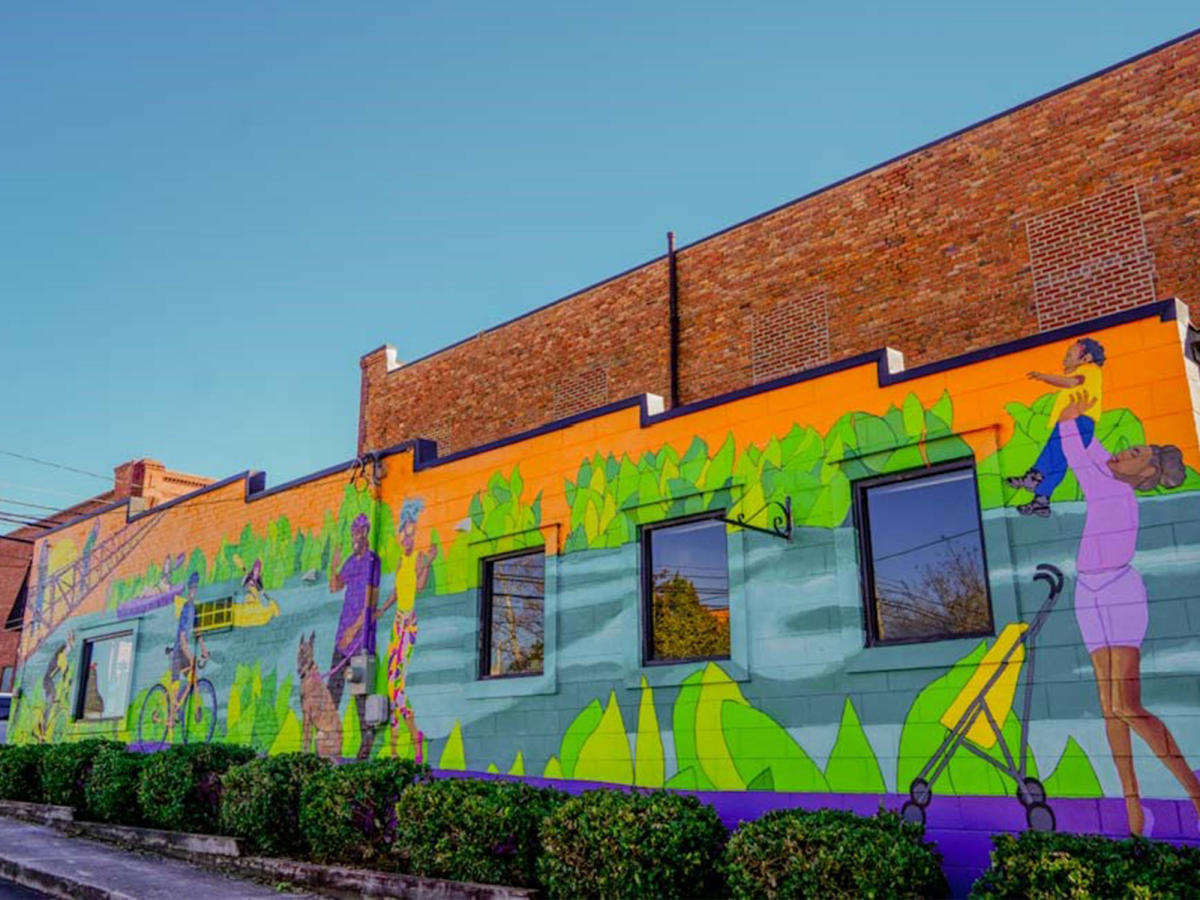 Moveology Mural - Clayton 

The latest Clayton mural can be found on the side of the Moveology building, so of course it is all about movement and exercise. The mural was completed by local artist ~buffy with Cope Aesthetic. Her mediums include paint and chalk, and she has been painting murals since 2018. It's colorful and eye-catching, and can be seen from Main Street.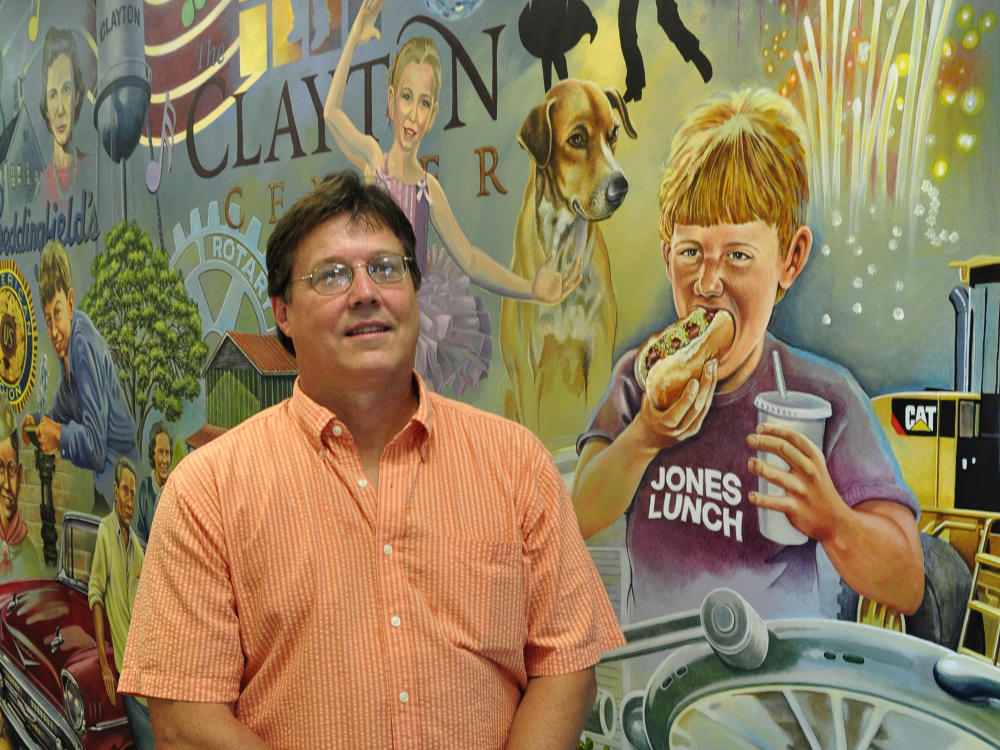 The Jim Brown Mural - Clayton 

This work of art includes 44 different vignettes of historical figures and landmarks as well as representations of business, civic, and cultural life. The mural is 10 feet tall and stretches about 27 feet down the hallway connecting the Clayton Library's primary collection to the south wing.

Jim Brown of Clayton, an illustrator/designer, and his wife, Ginny, who is also an illustrator/designer, completed the mural in 2010. The mural tells the story of Clayton's history, from its early days as a small community, through a lot of glory years, to its present-day status as one of the nation's most talked-about small towns.

The library is located right off Clayton's Main Street at 100 S Church Street, and that makes it near Clayton favs like Boulevard West coffee shop, The Market at Three Little Birds boutique, and vintage cocktail lounge Revival 1969.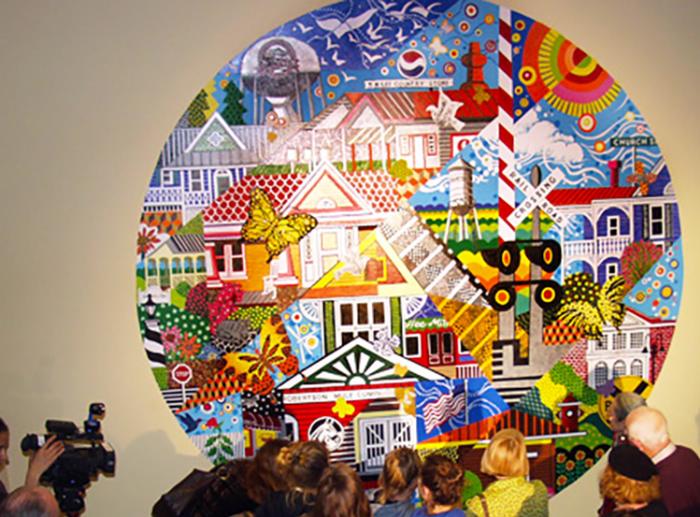 The Clayton Center Mural - Clayton

Unveiled in 2009, this mural was Clayton's first public art project; it depicts town scenes and is called "Clayton Patchwork." Local artist Dorothy Demboski worked to give The Clayton Center a permanent 10-foot by 10-foot mural featuring icons from around town. Demboski has won many awards for her work over the years. She has a BFA Degree from Carnegie Mellon University and has also taught at the Art Institute of Chicago and at Carnegie Mellon.

In addition, the lobby of the Clayton Center hosts a monthly, rotating art exhibit that is sponsored by Clayton Visual Arts which often features local artists. The rotating art stays up all month long and gives the lobby the look of an ever-changing art museum. The Clayton Center, located at 111 E 2nd Street, is also a great starting point for the Clayton Sculpture Trail.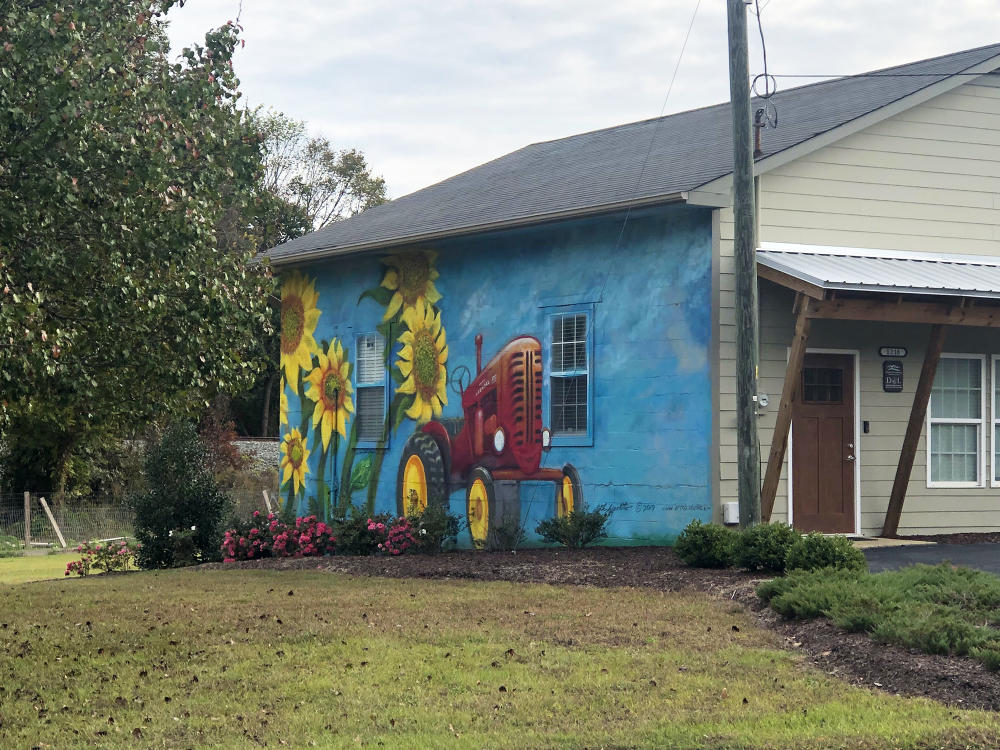 Tractor & Sunflower Mural - Clayton

Bright colors, sunflowers, and an old-timey red tractor feature in this piece by local artist Clark Hipolito of The Art Company. Stop by the offices of Joshua Davis, General Contractor, just outside of Downtown Clayton to see it. Please park behind the building and then feel free to take a photo with both this beautiful mural and the sculpture located very near it.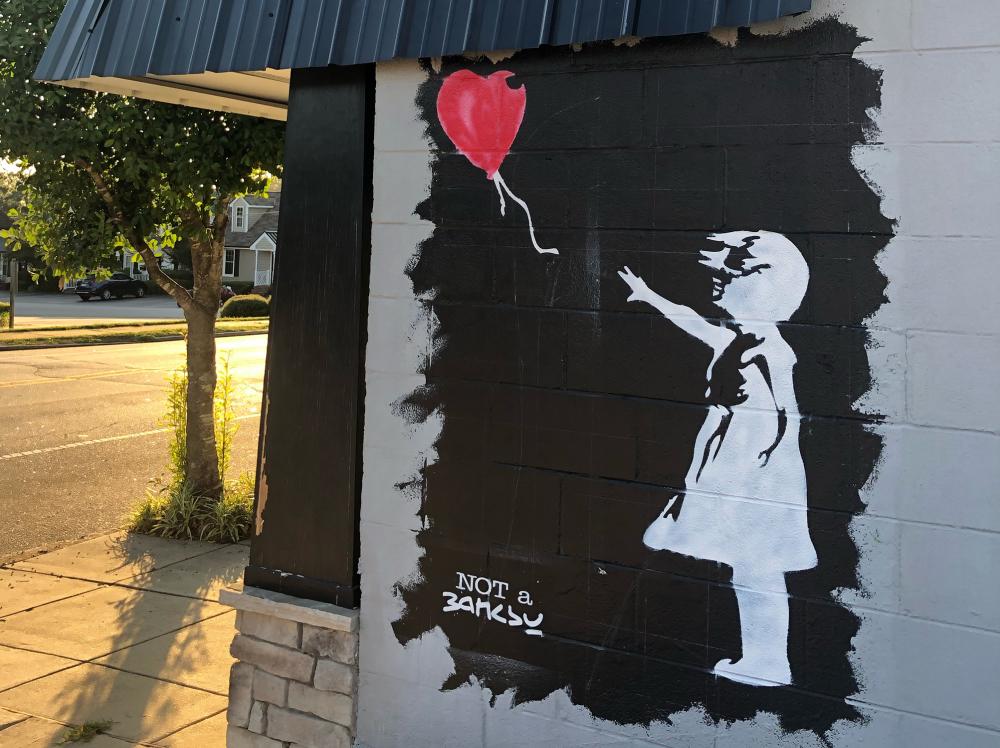 "Not a Banksy" Mural - Clayton

As a bonus to the Clayton art scene, there is a fun bit of street art on the side of the Signage of Clayton building. A homage to the internationally known and mysteriously anonymous street artist Banksy. However, the artist was clear to not take credit; the piece of work is signed "Not a Banksy".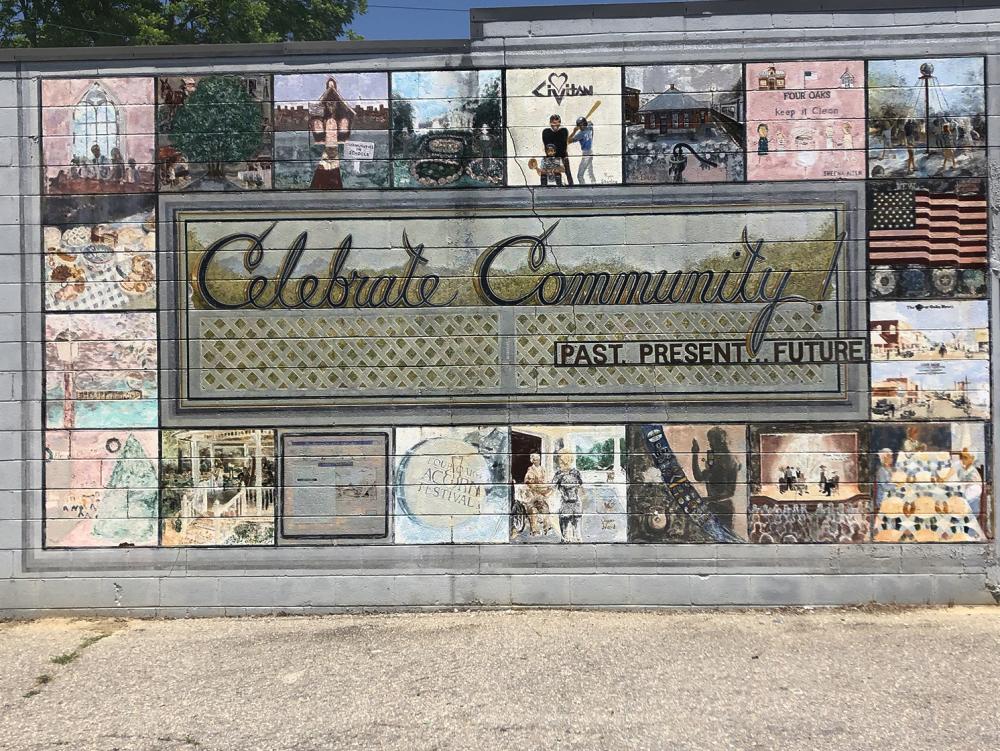 Dan Lee Mural - Four Oaks

This mural is located near the Four Oaks Post Office and across from Barbour's Grove Park and was painted by a local artist from Four Oaks,  Dan Lee.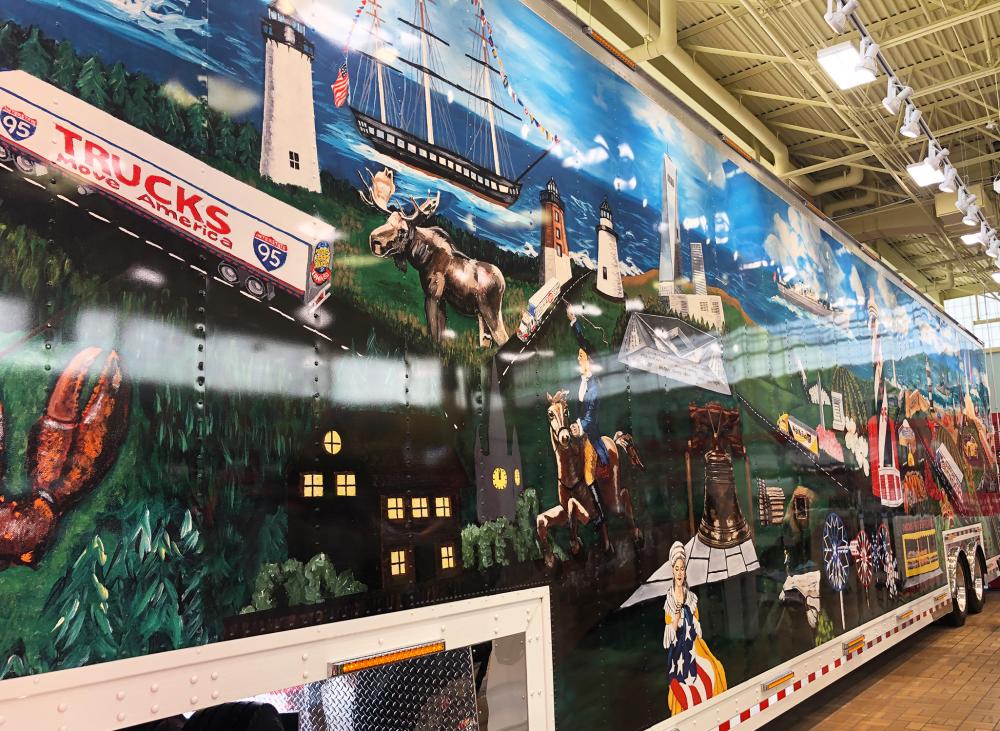 Kenly 95 Petro Truck Mural - Kenly

A mural on the side of an 18-wheeler?! Believe it. The good news for those that want to see this work of art, the truck stays stationary. The entire big rig is parked inside the Kenly 95 Petro truck stop, on Truck Stop Road in Kenly; Exit 106 off I-95. FYI, just one exit up in Downtown Kenly is the Tobacco Farm Life Museum.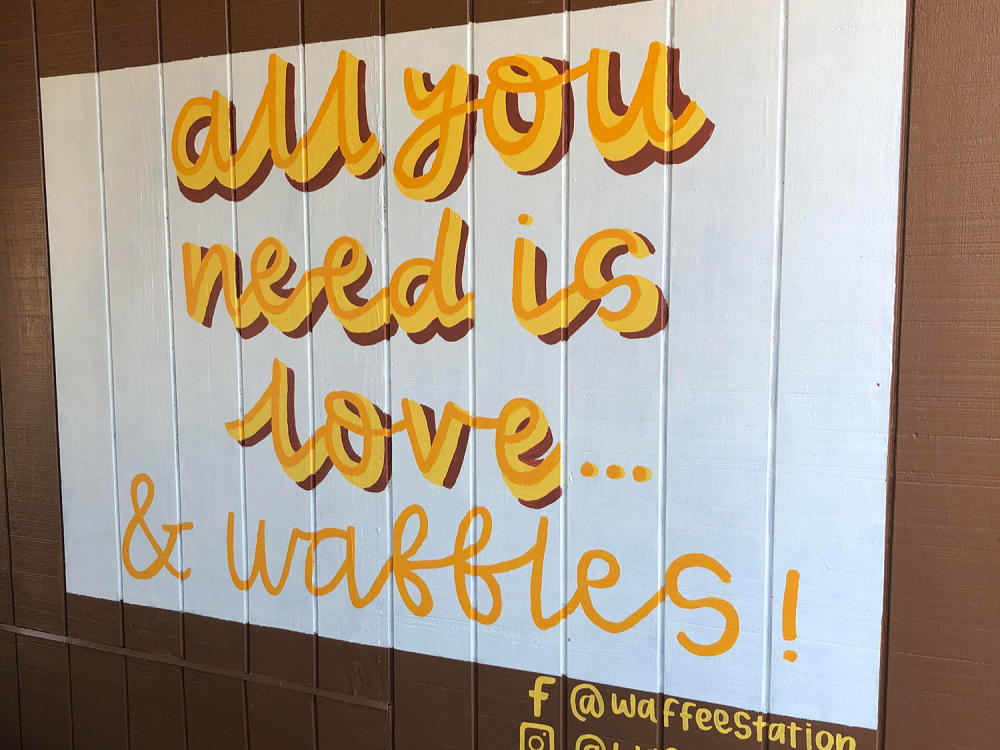 Waffee Station Mural - Micro

Have you ever seen a more true sentiment? Thanks to the Waffee Station for the reminder. Stop by for a delicious waffle and to take a pic with the mural to remind yourself why waffles are important.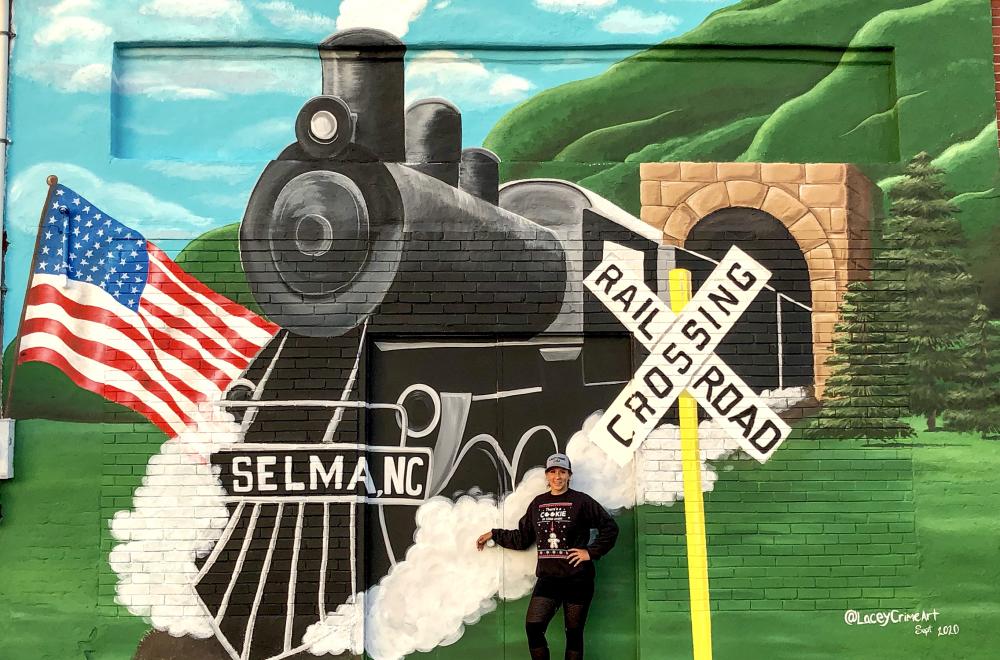 Railroad Street Mural - Selma

This is a life-size mural of a steam engine locomotive painted by Raeford, NC artist Lacey Crime and is located in Downtown Selma. Ron Hester of Hester Properties is the building owner, and donated the space as a blank canvas for this project. 

The mural faces the North Carolina Coastal Line that is used by CSX and Amtrak; passengers from up and down the east coast arriving and departing from Selma Union Depot will be able to see the mural. In addition, customers of nearby businesses can enjoy the mural including Trackside Antiques, and more.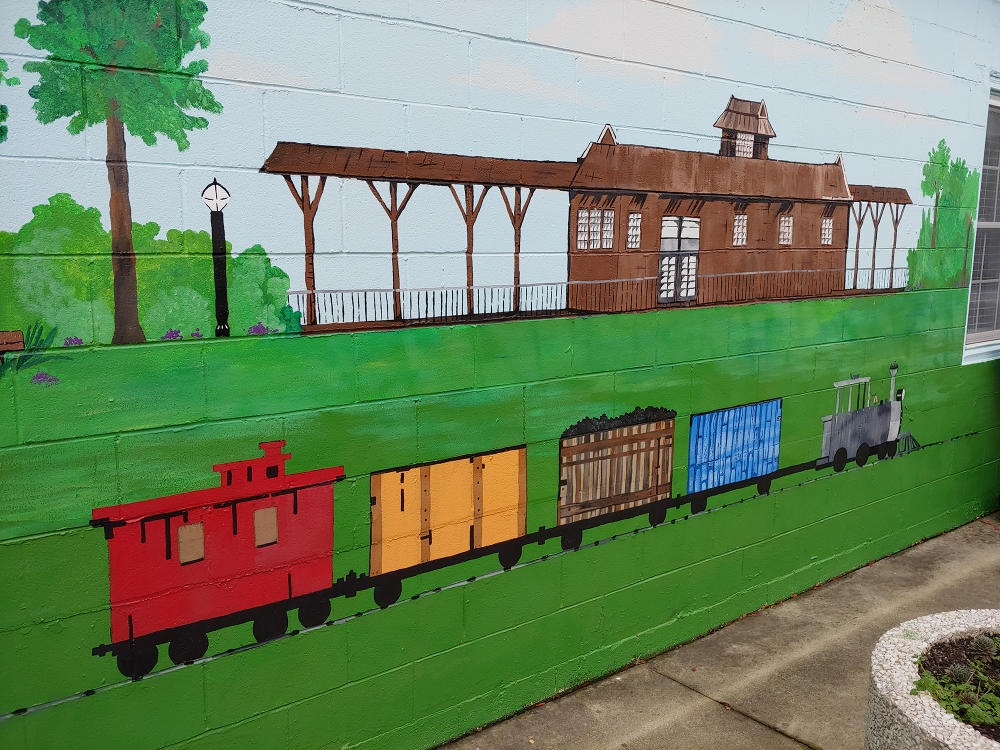 Vick Park Mural - Selma

The first mural to be created in Downtown Selma, in 2019, features historic landmarks around Selma and was painted in Vick Park, located at 112 E Anderson St. Fayetteville artist and former Selma art teacher Dorothy Finiello painted it. The mural was part of a larger East Anderson Street Redevelopment Plan executed by members of the Town of Selma Appearance Commission, which also included resurfacing, wall improvements, fencing, lighting, benches, tables, and landscaping. Vick Park is used for picnics, community meetings, the Selma Arts and Crafts Market, and other public gatherings.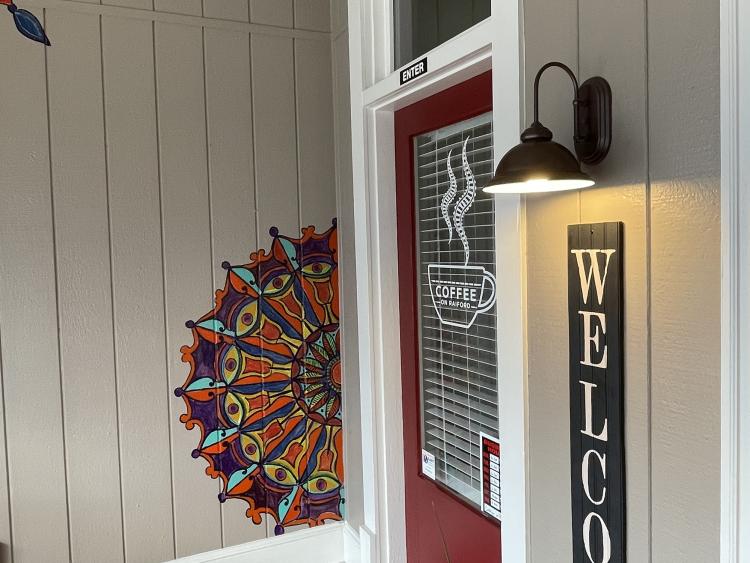 | | |
| --- | --- |
| | |
Coffee on Raiford - Selma, Building Art
Local artist and gallery owner William Strickland has painted some fun and colorful building art on the porch of the coffee shop Coffee on Raiford, and at the back door. Inside the coffee shop, visitors will also find some of William's art for sale. His gallery is open on Fridays and Saturdays in downtown Selma. Visitors exploring the mural trail will also find building art in Selma at 101 Anderson St. at the intersection of Anderson Street and Raiford St. (the bench is an illusion!) Artist Lacey Crime also painted the flowers at Selma Jewelry's "back porch" entrance that faces the Town Hall parking plaza.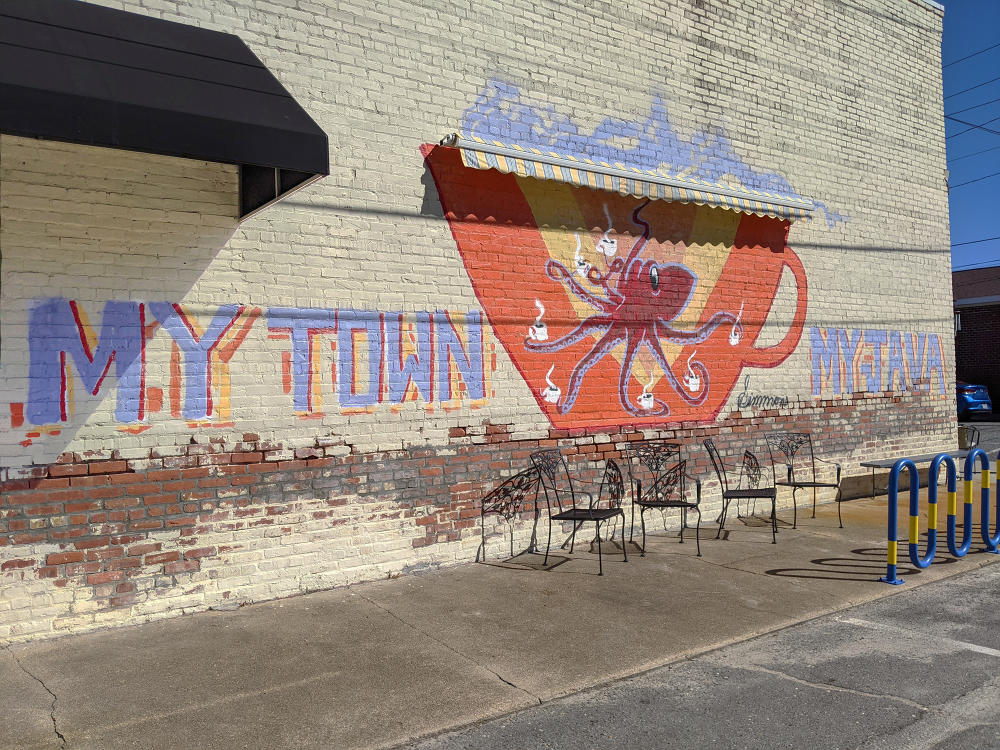 Milltown Java - Princeton
My Town. My Java. Indeed. Really cool coffee octopus? Sign us up. You can find this colorful mural on the side of Downtown Princeton's local coffee shop Milltown Java. A great place to hang inside or outside.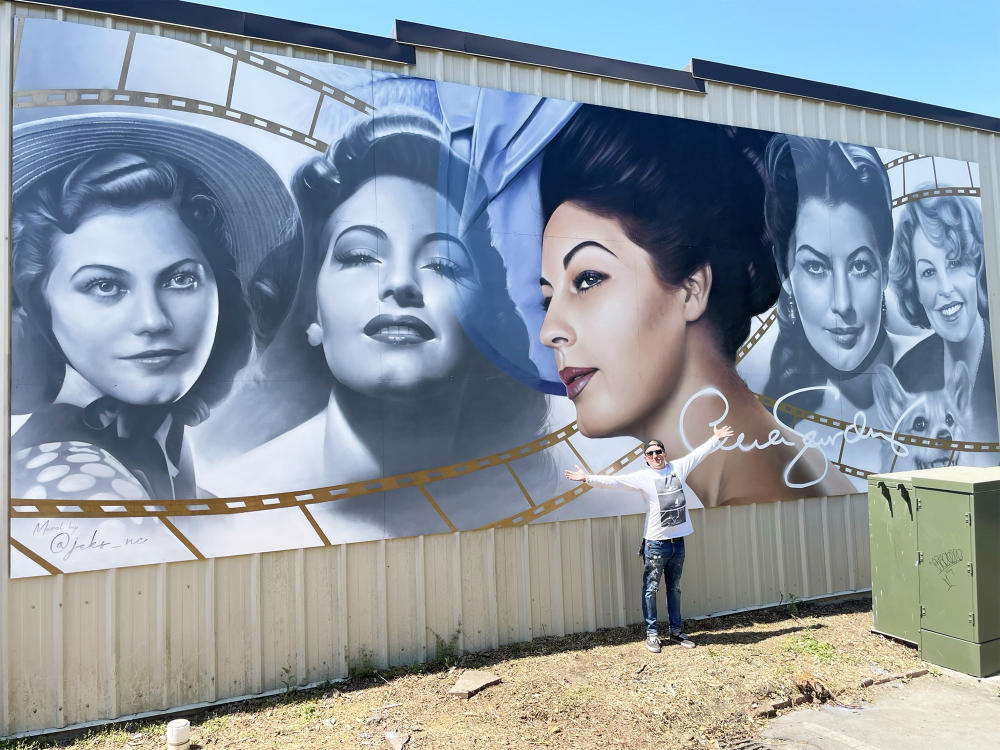 Ava Gardner Mural - Smithfield

A beautiful mural for a stunning local lady. Learn about this stunning mural, the artist, and the one-of-a-kind subject by reading our blog here. And stop by the Ava Gardner Museum in Downtown Smithfield to take a photo with this amazing mural for yourself. 
 


Neuse River Bridge Mural - Smithfield

Sarah Gaskins and Clar McGeough, two 14-year old friends, enjoyed drawing and shared an affection for the greenway that runs through Smithfield. When it came time to pick a project for their Girl Scout Silver Award, the highest rank in their age group, the girls decided to use their artistic gifts to complete this vibrant, 1,300-square-foot mural that fills every inch of the space under the Market Street bridge. Broken into five panels, the painting features stops along the Mountains-to-Sea Trail, including Grandfather Mountain, the Biltmore House, Smithfield, the Surf City Ocean Pier and Cape Hatteras.The mural's central and largest panel showcases Smithfield. It depicts the Hastings House, the World War I memorial at the Johnston County Courthouse, and it includes a nod to the Ava Gardner Museum. The mural is painted under the US HWY 70 bridge that crosses the Neuse river at 200 S. Front Street.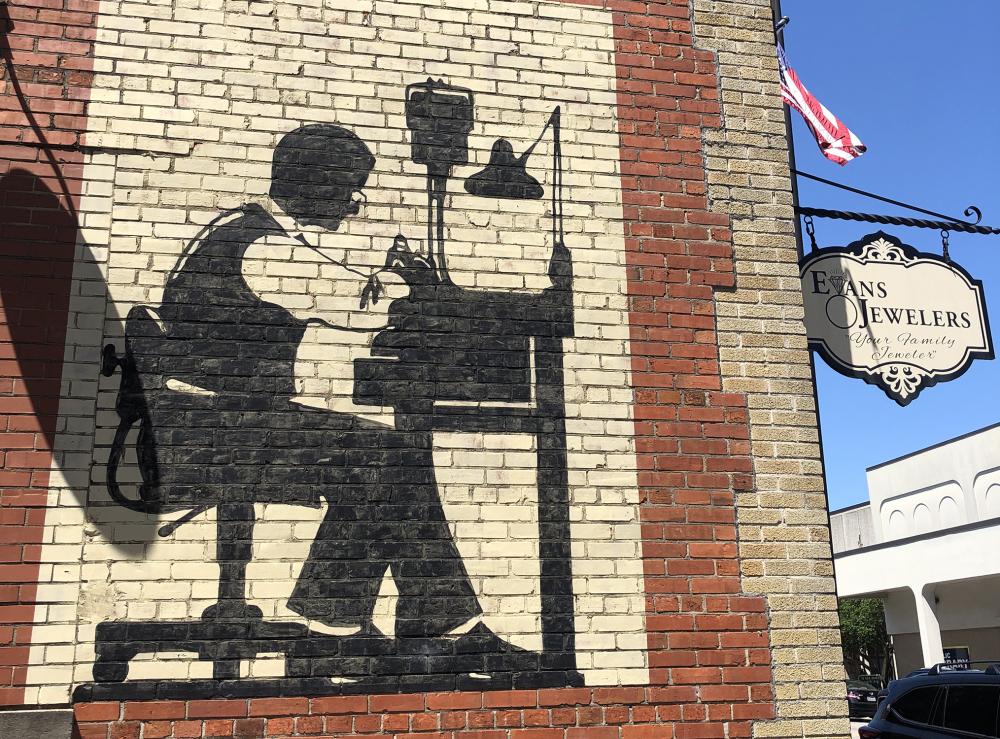 Evans Jewelers Mural - Smithfield

This outline of a jeweler hard at work depicts which profession visitors will find inside this historic building. Evan's Jewelers, a multi-generational, family owned and operated jewelry business, is located at 320 E. Market St., directly across from the Ava Gardner Museum in Downtown Smithfield and next door to The Diner or Sami's Pizza for a great place for a bite to eat in Smithfield.