It may be yellow or it may be white, but we think fresh corn on the cob is tasty in any color. In Johnston County, one of the fastest growing counties in North Carolina, road-side fields with tall corn stalks are still easy to find.

Although there are many pick-your-own farms for fruits like strawberries and blueberries, we suggest leaving the harvesting of corn to our local farmers.  Getting in the rows and rows of corn is "hot" business and knowing what's ready to pick is more difficult than finding a bright red berry.  Stop by the Clayton Community Farm Market or Lee's Produce in Clayton to buy corn by the dozen or the bushel.  Corn can be easily frozen off or on the cob and enjoyed all year long in your favorite recipes.  To enjoy on-farm tours, fresh produce and activities for your family, visit our page of local farm events.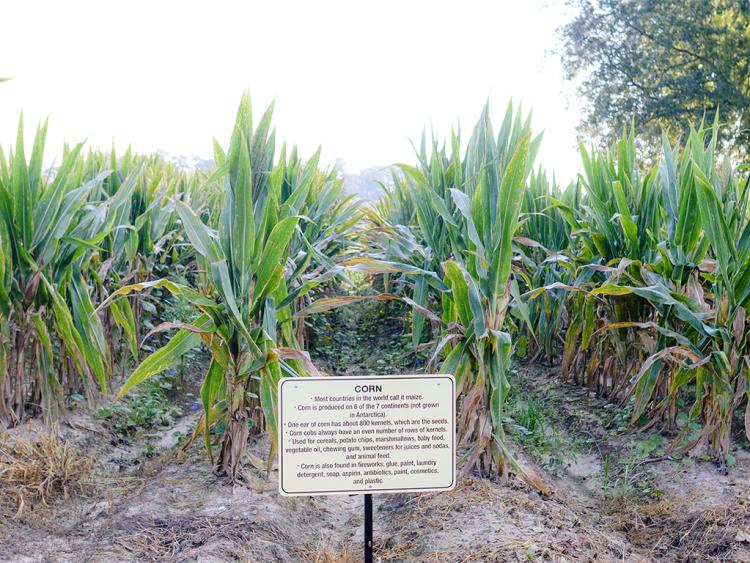 There are a host of recipes for fresh corn, and here's one of our favorites to share with our readers. We say YUM!!!
Corn Muffins with Fresh Corn
Ingredients
    Nonstick vegetable oil spray
    1½ cups all-purpose flour
    1¼ cups cornmeal (From Atkinson's Mills)
    ¼ cup plus 2 Tbsp. sugar
    2½ tsp. baking powder
    ¾ tsp. baking soda
    1 tsp. kosher salt
    ½ tsp. freshly ground black pepper
    1 1/2 cups fresh corn kernels (from about 2 cobs)
    2 large eggs
    ¾ cup sour cream
    ⅔ cup milk
    ½ cup (1 stick) melted unsalted butter, cooled
 
Directions
Preheat oven to 400°. Generously coat a standard 12-cup muffin pan with nonstick spray. Whisk flour, cornmeal, sugar, baking powder, baking soda, kosher salt, and pepper in a large bowl. Stir in 1½ cups corn. Lightly whisk eggs in a medium bowl, then whisk in sour cream, milk, and butter. Create a well in the center of dry ingredients. Pour egg mixture into well and stir with a wooden spoon until batter is just combined. Divide batter among prepared muffin cups.
Bake muffins, rotating pan halfway through, until tops are golden brown and a tester inserted into the center comes out clean, 18–20 minutes. Let cool  slightly in pan. Transfer muffins to a wire rack and eat while warm or let cool completely. Tip: Muffins can be made 1 day ahead. Store in an airtight container at room temperature.