In 24 years as the Director of Tourism for Johnston County, I have written thousands of words promoting our destinations - I expect more than 100,000 in ad copy, website content, newsletters, marketing plans, annual reports, and more!  But the words I write here today may be the most important; the most heartfelt I have ever written. For never before have I felt more responsibility to help our tourism industry than to prepare for recovery from the COVID-19 crisis.
I care so much for the people that make up our local tourism industry; they are my friends, my neighbors, and my coworkers, and we are, as they say, all in the same boat. With one executive order, the light switch was turned off for tourism.  What I do know is that as of May 8 at 5pm we began Phase I of reopening our economy and it's a small step to recovery. But there is no light switch to flip back on - to get back what we lost. So, slow and steady we will work together as an industry and a community to make visiting as safe as possible for our workforce and for our customers.
It feels like I have participated in at least 900 webinars and Zoom meetings on travel research, and for the past eight weeks we have shared as much as we could with our partners to help with PPP, SBA, EIDL (alphabet soup relief programs), to bridge the financial struggle. I hope it has helped and our partners have found some relief, but I fear it has been a struggle and/or too little.  The tourism industry plays a large part in the economy of Johnston County and we cannot know the true effects of COVID-19 until visitors again enter our doors... giving much-needed business to our hotels, restaurants, shops, and attractions. 
I have gathered a few helpful slides here to quickly give you a snapshot of what visitors will be seeking when they travel and visit again, and some of the state's programs that we feel will be critical for our small businesses. Things will be different for us all, but what I have seen in the past weeks in JoCo is tremendous determination, resourcefulness, creativity, caring, giving, and faith. #JoCoStrong
Are Visitors Ready to Travel?
How are visitors feeling about travel, and how are our communities feeling about visitors returning? These are valid questions for both. As this cloud shows, there is still much fear about COVID-19 including safety concerns and a possible return of the virus in the fall.  Most research is showing some travel to beach destinations from June to August, and strong indications that people want to be traveling this fall.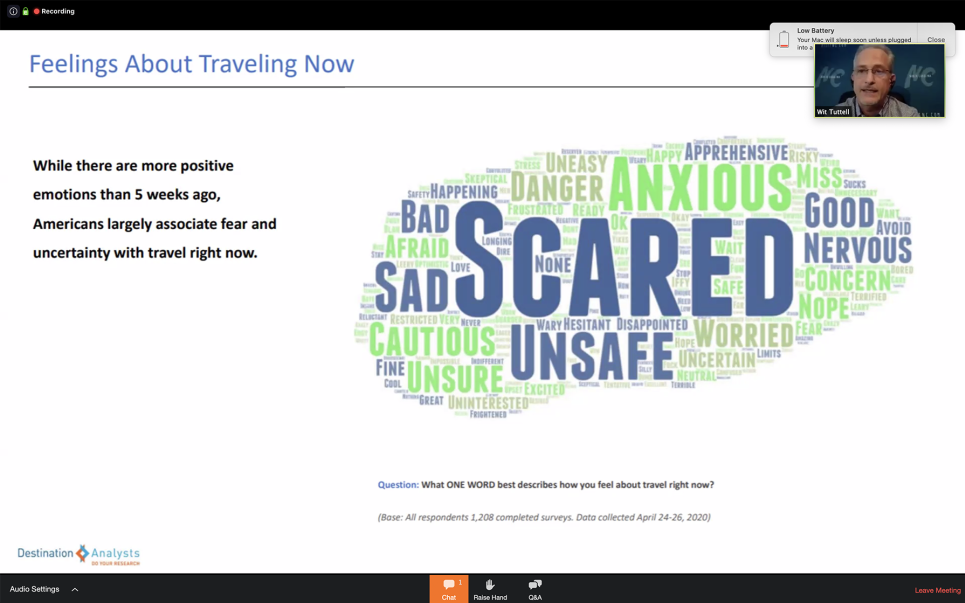 How to Prepare for Opening Back Up
Regarding best practices for our restaurants and lodging properties, these are the key safety measures visitors are expecting when they enter your businesses. Of course, these will be relevant for all our visitor-facing businesses. These slides are from a research study by Destination Analysts conducted May 1-3, 2020 with 1,204 respondents.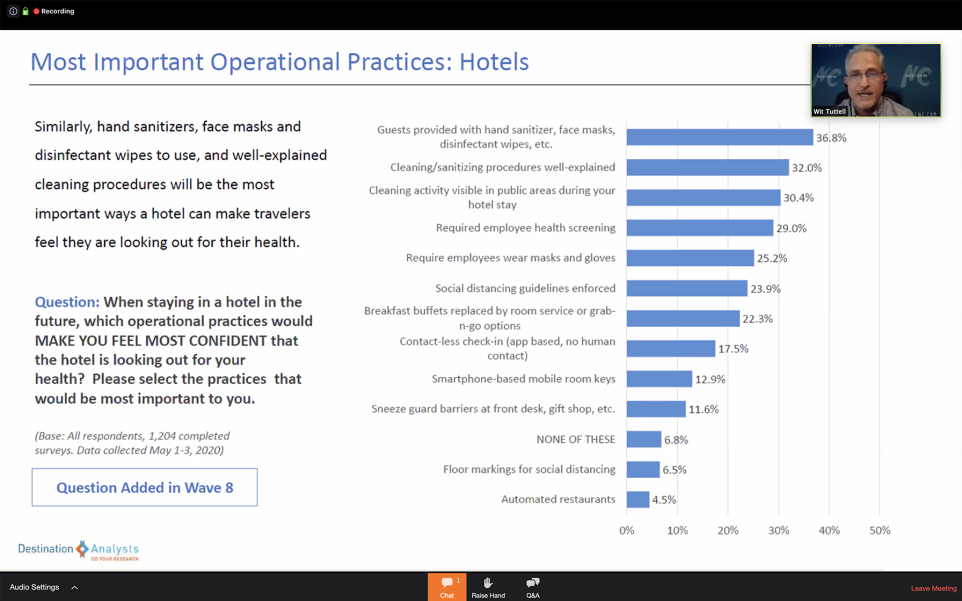 Two New Programs to Help 
VisitNC director, Wit Tuttell, gave a presentation recently with some key information for us all. North Carolina's drive market, rural landscapes, open spaces, and accessibility will help us recover in the months ahead. However, we need to be prepared to welcome visitors; our communities might have fears of visitors bringing the virus back to our towns, and our workers need training and to feel safe as well.  As we near the end of Phase I, now is the time to prepare for Phase II and beyond.  Thanks to the resources of VisitNC and our state industry partners like the NC Restaurant and Lodging Association (who has been our lifeline for information!!!) and NCSU Cooperative Extension for helping our industry.
The NCRLA has now completely rolled out a training certification program called Count On Me NC, and we have sent out the details and links for you and your employees to participate in what is now 5 tailored training courses for restaurants, hotels, and businesses of all types.  Businesses that complete the course will be able to display a seal on restaurant menus, put decals on their doors, and will be offered further marketing materials. The website for the program is www.countonmenc.org.  They also have an NC Restaurant Promise program with helpful guidelines for us all.

As of 6/25/20, we know that the following businesses in JoCo have participated in Count On Me NC with more to follow: Sleep Inn & Suites Smithfield, Econo Lodge Selma, Two Wheel Cafe Inc., Mucho Mexico, Golden Corral Smithfield, Bob Evans Smithfield, White Swan BBQ, Culver's, Deep River Brewing Company, First Street Tavern, Jones Cafe, Mission Beef and Brews, Revival 1869, Sherry's Signature Cheesecakes, Rockin' Comet Diner, Clayton Steakhouse, Vinson's Pub + Eatery, Simple Twist, Kenly 95 Petro, Salvaged Heirlooms, Waffle House Benson, The Redneck BBQ Lab, Grill on the Hill, J-Top's BBQ, Anthony's La Piazza, Ava Gardner Museum, Richardson Trophy & Awards, Super 8 Smithfield, Triangle East Chamber of Commerce, Bourbon N' Sweets, Char-Grill Clayton, Grill Daddy's, Studio M Danceworks, Conundrum Escapes, Tippy Toes Dance Studio, FC Grandson's, Howell Theatre, Eden's Vegetarian Catering Service, Live@The Rudy, Little Brown Jug, The Clayton Center, Darkside Haunted Estates, Artmosphere Community Arts Center, and The Cleveland Draft House.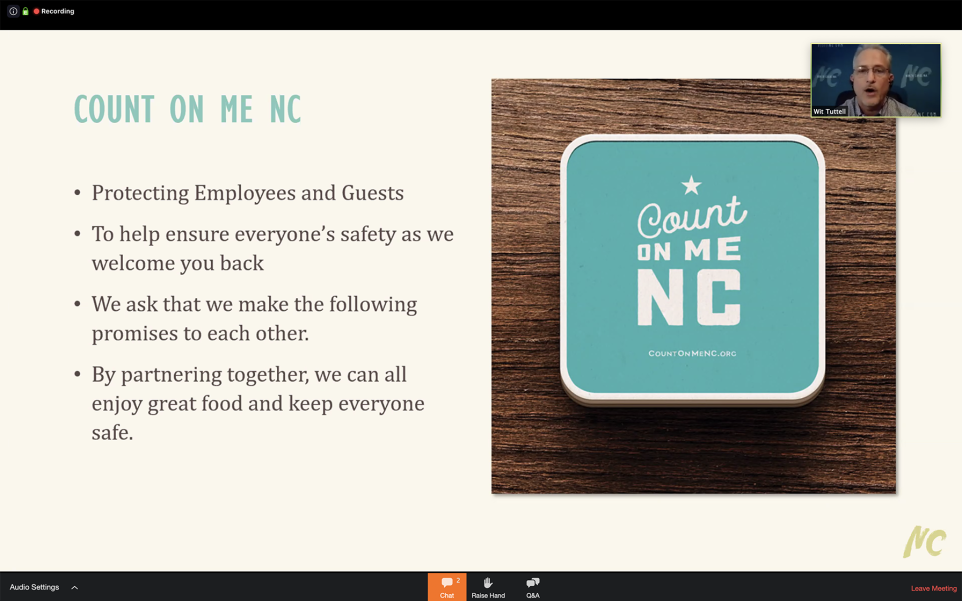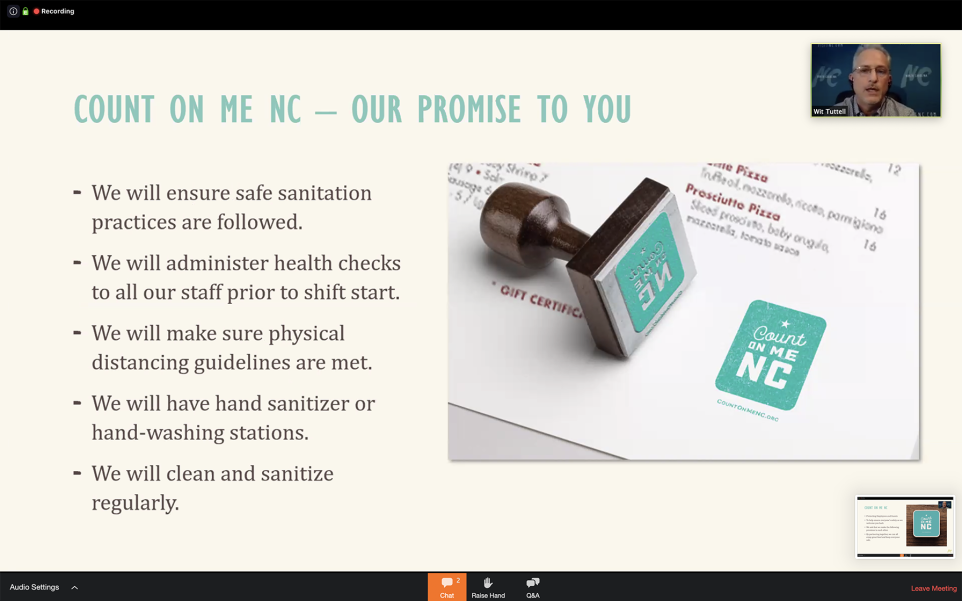 VisitNC also recently announced a social program to highlight culinary talent around North Carolina. NC chefs will post a photo or photos on their Instagram accounts, sharing their favorite meals prepared by other NC chefs and tagging those chefs. This helps to organically promote the wonderful and diverse food scene we have in NC. Look for this "Cook it Forward" program at www.visitnc.com/cookitforwardnc.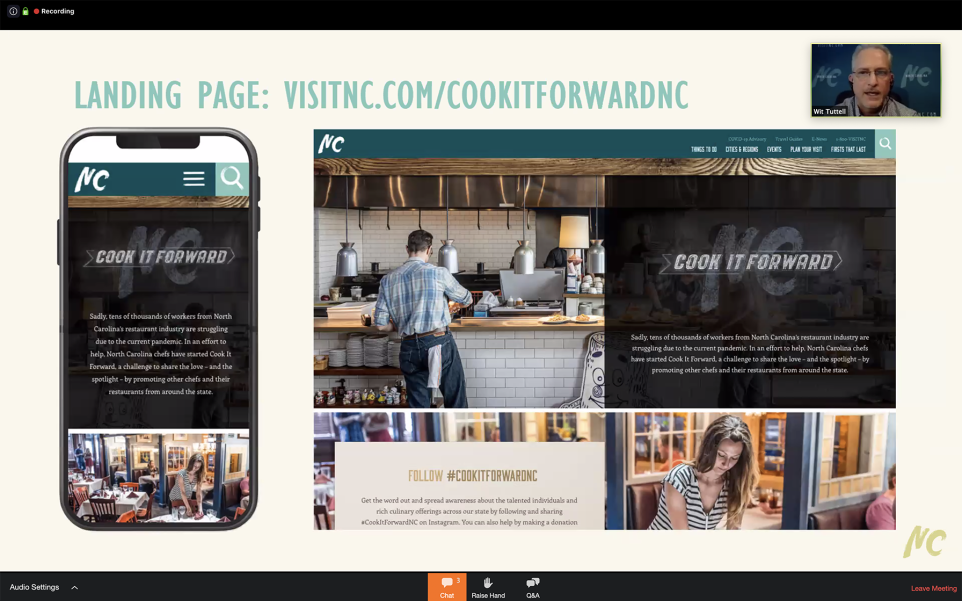 From Your VisitJoCo Team
Our industry is comprised of small business owners who had a dream - to open a restaurant because food is their passion, or to collect antiques and have a little shop where people hunt for found treasure, or to share their love of fashion and run a boutique on their hometown's main street. Others have long family histories of running interstate motels and have grown to be franchise hotel owners, offering hospitality to weary interstate travelers from New York to Florida.  Our entertainers, our artists, our festival planners, our historians, are now reaching us with live Facebook events, creating digital experiences, and turning to creativity to survive. Our industry does not thrive without our visitors, the audience we long to serve!
This fun and diverse industry we love is collectively a mighty cornerstone of our local economy – I dread to think what we would do without it. We need travel in our lives – to visit our friends and family, to celebrate life's milestones, to explore new places and meet interesting people. These needs continue to drive us to places both near and far... and it will do so again!
What really lies ahead for tourism in North Carolina, for Johnston County, or for the world? If only my crystal ball was just a little bit clearer. What I do know is we will be here to help you with messaging, marketing, and resources – and to welcome visitors back to Johnston County. In the meantime, let's get ready together!