What's New in Clayton - Sports, Parks, Trails, & More!
For this week's blog we sat down with Clayton Parks & Recreation for a list of all the exciting new and up-coming recreational assets and sports facilities that the town has to offer visitors and residents alike.
 
The Municipal Park - Reimagined

Clayton recently broke ground on a brand new park; it's called Clayton Municipal Park and it's in the same location as the current municipal park. It's both a reimagining of the current footprint and a major overhaul. The new park, when complete, will have a splash pad, multi-sport courts, an entertainment stage, and multiple shelters.
There will also be a large, open, grassy centerpiece that can be enjoyed as a sort of communal lawn. It is the only major park in the Clayton area that the Parks & Recreation department has no plans to program; meaning it won't be used for rec sports or private events, but will instead be a true community gathering place.
Look ahead to the Grand Opening event for this reimagined space, likely to be held in September though the park will open to the public well before then. The town is planning for the opening event to be a huge celebration and an example of the space's capabilities, expect lots of activities and live music.
Municipal Park is also the gateway to Clayton for hikers and bikers coming off the Sam's Branch Greenway, as the trail's new extension ends at the park. From there greenway users have only just one block left to get into the heart of Downtown.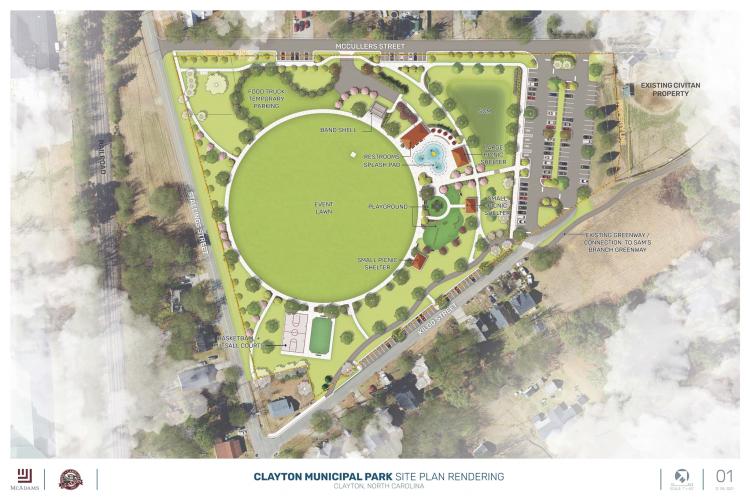 The Crossroads of the MST & ECG

Speaking of the Sam's Branch extension, this new paved addition which starts at the Clayton Municipal Park now extends for over 3 miles and joins with the Clayton River Walk to create over 7 miles of paved greenway with multiple access points.
The Clayton River Walk combines with other trails as you head towards the county line, meaning visitors and residents across multiple counties can experience over 75 miles of nearly uninterrupted greenway use from Durham into Downtown Clayton.
Both the Mountains to Sea Trail and the East Coast Greenway claim the Neuse River Walk and the Sam's Branch Greenway as part of their trail system; making Clayton the perfect place to experience where these two iconic trail systems cross.
The Mountains-to-Sea Trail is a 1,175- mile walking trail across North Carolina that crosses Johnston County roughly paralleling the Neuse River through Clayton, Wilsons Mills, Smithfield, Howell Woods and Bentonville. The East Coast Greenway Alliance is a walking and biking route stretching 3,000 miles from Maine to Florida, connecting the nation's most populated corridor. Clayton is home to several official pieces of the ECG: the Neuse River Trail, Sam's Branch Greenway, the new Clayton Downtown Connector, and the Front Street Sidepath.
If you'd like to explore the new Sam's Branch extension for yourself, attend the up-coming Walk and Talk event regarding trails and open spaces in Johnston County; the event will also highlight and celebrate the brand new Sam's Branch Greenway extension. The event is being held in partnership with the Mountains to Sea Trail, East Coast Greenway, and Friends of Johnston County Parks organizations. Join them on February 17th at 4:40PM for an hour-long hike or bike of Sam's Branch, ending at Deep River Brewery in Downtown Clayton for a beer and an informational session about the future of trails in JoCo. More information can be found on the Walk and Talk event Facebook page here.
 
An Increase in Fields & Fun

Likely to be completed later this year, East Clayton Park's flexible use fields are set to be resurfaced with artificial turf. East Clayton Park fields are also lit for night play and have restrooms and the relatively new Harmony Playground (an inclusive play space). In addition, Clayton Parks & Recreation is also now managing fields for Clayton High School, and will soon take over management of a 4-acre Bermuda grass field space formerly managed by the YMCA. All which adds to their facilities inventory for recreation, youth clubs, and travel ball.
As a reminder, visitors to Clayton can use the Community Center for a $5 daily fee. This drop-in fee gets you access to equipment and facilities, for those looking for a gym while in the area.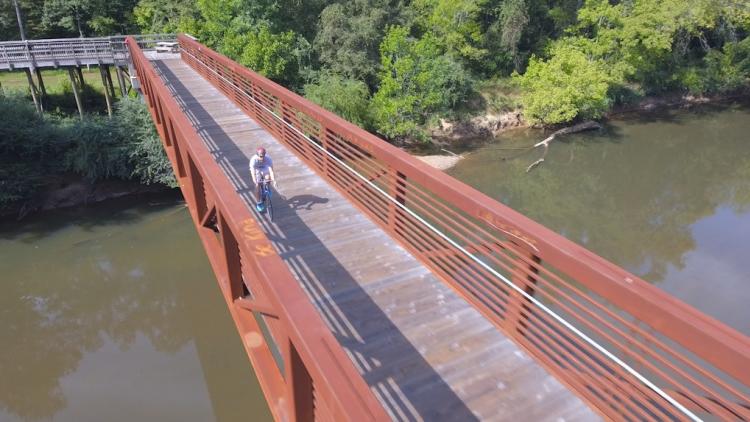 Meet the Clayton Clovers in May

Clayton recently signed a multiyear deal to make East Clayton Park the home of the new Clayton Clovers - a semi-pro team consisting of D1, 2, & 3 college baseball players. This league will play against other teams in the region and will have a 25+ home game season schedule.
The Clovers will bring in out-of-town visitors to enjoy all that Clayton has to offer, and will provide an activity for locals interested in attending games; which will be ticketed and will involve activities great for families aside from watching the game. Food trucks and beer trucks will also be available during games for spectators.
 
Refuel After Your Adventures

Once you've recreated to your heart's content, there's also a growing number of options to fuel back up in Downtown Clayton and the surrounding area. New to Main Street is both Scott Crawford's new casual concept Crawford Cookshop and The Cardinal Bar - both Raleigh mainstays opening new locations in JoCo. Coming later this year is Craften, just outside of downtown with a concept that flips the modern food hall on its head.
There's so much to look forward to with Clayton Parks & Recreation, and with the town in general. To keep-up with all that's happening in Clayton be sure to follow the Town Facebook and the Parks & Recreation Facebook. Plus, the visitors bureau works to keep VisitClayton.org up-to-date with all there is to experience, explore, and enjoy in the Clayton area.