The new Benson Museum of Local History opened on May 28, 2010 after three years of fund raising, building renovations and exhibit design and installation.
The Town of Benson and the new museum, and now the Visitors Bureau are interested in attracting more visitors and school groups to the facility. The museum is local in nature as far as the stories of the people of Benson goes, but they are unique in many ways.  Many may not know the internationally acclaimed composer Hunter Johnson was from Benson or that Jimmy Capps of Nashville's Grand Old Opry is from Benson. There is an abundance of farm related artifacts pertaining to the turpentine industry in Eastern NC including cotton-buying, tobacco farming, and the tools and equipment local farm families used for work, caring for, and feeding their families.

Also unique is Benson's thriving merchant business which built up around the Wilmington & Weldon Railroad as soon as it opened in October, 1886. The town may have been small, only 200 people in the early years, but it served residents and farm families for miles around, as it still does today.  Main Street Benson continues to offer hardware, appliances, car dealers, restaurants, and many retail establishments remain and thrive...in this town of 3,600 people.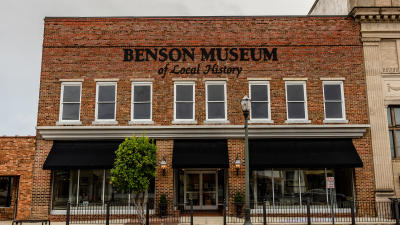 The museum is located at 104 W. Main Street in the Rose Woodall building that was originally a furniture and casket making store. The board's decision to keep the character of the building with the tin ceilings and refinished hardwood floors supports the town's commitment to be authentic.

The exhibit rooms tell the story of the town and its founding family A. M. Benson, local merchants, military heritage from the Spanish American War to World War II, local doctors, farming, education, home life, Mule Days, the Benson Singing Convention and local artists like Carlie Tart, Jimmy Capps and Jim Thornton. Each exhibit theme has its own "room" that visitors can walk into and read about local history and see artifacts the board has collected over the past 30 plus years.

For more information on hours the Benson Museum of Local History is open, please contact the Town of Benson at 919-894-3553 and visit the town's website to see the latest news, www.townofbenson.com