If you have been following the Meet the Makers blog series, then you'll know that I have endeavored to sit down with Johnston County's great makers in some of the fastest growing industries in the state - craft beverages. Beer, wine, and liquor production by small sized and often family-owned companies account for billions of dollars in tax revenue for North Carolina. It's also an excellent reason to visit the Ole North State. And many visitors and locals alike trek to Raleigh wineries and other regions of the state to experience the venticulture we have here. If you haven't been reading Meet the Makers, then Welcome. You can find the previous two blog posts here and here regarding craft brewing in JoCo. Today however, we turn to winemaking.

"Accept what life offers you and try to drink from every cup. All wines should be tasted; some should only be sipped, but with others, drink the whole bottle." ― Paulo Coelho

In my humble opinion there is no more beautiful time to visit a winery than October. October means warm sunshine and cool breezy afternoons. At Hinnant Family Vineyards in Pine Level, NC October signals the end of harvest, when the literal fruits of a year's labor can be divested of their green, leafy vines. These grapes are ready to move forward towards their full potential, becoming grown-up bottles of delicious Hinnant wine.

On one such beautiful Fall day I sat down with the man who has for almost 5 decades had a hand in getting grapes from field to bottle. Bob Hinnant was just 6 years old when the first grape vines were planted on Hinnant Vineyards. His father and his father's siblings sold grapes wholesale to grocery stores and wineries. Bob helped out whenever he could, watching his father cultivate plants from a few acres to what is now a sprawling 100 acre vineyard. In his spare time first his father and then Bob took up making homemade wine with the muscadine grapes they grew.
Not All Vineyards Are Wineries - But They Could Be

"It wasn't until about 12 years ago that we started making wine with a true commercial interest. I saw smaller vineyards with successful wineries and I thought we could do it," Bob admits they started small though with just 1,800 cases of wine produced in 2001. There's 12 bottles in a case to help you with the math. But since that time Bob has grown the winery into a 30,000 cases per year production.

Bob says it's not just Hinnant that's growing, it's the wine industry in NC as a whole, "when we started we were the 16th winery in the state. Now North Carolina has almost 200 wineries." That's a lot of wine and a lot of competition, but Hinnant has met and exceeded expectation. In 2014 alone they took home the Muscadine Cup from the State Fair. But even more impressive they took home Best in Show that year. It's impressive because their muscadine wine beat out all other categories and varietals to win that award. There is a prevailing assumption among the wine community that sweet wines are somehow classed down from traditional, dry, old-world tasting red wines. It's something that Bob is working to change and visitors to Hinnant love the variety of wines available.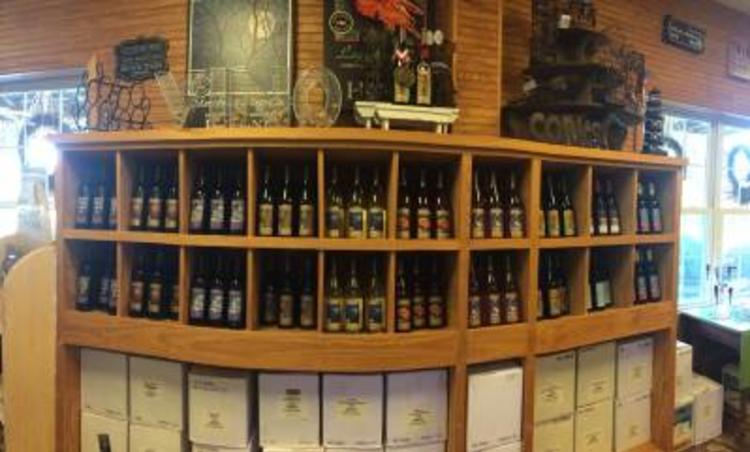 "We grow Muscadine, but we also grow Concord and Blanc Du Bois. We bring in a small amount of other grape varietals from other places, that we can't grow here, in order to blend and alter taste profiles." If you're not a wine connoisseur, allow me to translate for Bob. The varietal of the grape, more than almost anything else, affects the taste of the wine. Growing climate affects what sort of varietals will flourish in a given region. Hinnant grows a lot of grapes, but uses other grape sources and the fermenting process to draw flavor profiles out in their wines. If you like sweet white wine, Hinnant has a wine for you. If you like dry red wine, Hinnant has a wine for you also.

Hinnant didn't take home any State Fair awards this year but Bob thinks that next year is going to be another winning year, "The harvest this year still isn't over, it's been longer than usual. It rained and rained and then it dried up. That means the grapes can sit on the vine and soak up water before harvest. The wines we make out of these grapes will be promising."

But like the grapes on the vine, Bob is about to pull a disappearing act, "I'm gonna take off soon. Harvest has been crazy around here and I've been present every day for months." Don't worry, he's coming back. I think.
Technology Versus Tradition


I asked Bob what's changed over the decades aside from the work load. How does a family-owned winery move from home fermentation to commercial winemaking? He says that capacity doesn't matter, temperature does, "In order to make really good fruity wines you need to control your fermentation temperature. It doesn't matter if it's a 5 gallon bucket or a 500 gallon tank. In that regard technology has made winemaking easier than it's ever been. A large part of making good quality wine is about filtering and about cold stabilization. There are machines for that now. In the old days people would ferment and age wine in caves, or bury it in the ground to keep it cold."


I wanted to know what was over the horizon for Hinnant or for the wine industry, "we're really working on re-branding our labels to make them look distinct on the shelf. We have moved into bottling with Stelvin screw caps instead of cork. That's something that the industry as a whole is moving towards. We also have 2 private label wines right now we're making exclusively for Walmart. That partnership has potential to take-off. I hope down the road to begin making brandy, sherry, fortified wines, and grappa."

That sounds amazing, but some of those drinks would require a distilling permit due to the alcohol volume. I was told that it's in the works. Exciting. In the meantime, you can enjoy a glass of Hinnant wine on the wrap-around front porch of the tasting room. Or pick-your-own grapes. I followed Bob out to the vineyard so I could see the unique double wire system they use to grow their vines. It's called the Geneva Double Curtain and it splits the branches of the plant so that the vines creep along two running wires and not one. This increases grape production by about 40% more fruit per acre.

With my head stuck up in the middle of a grapevine between two pieces of wire and with a leaf in my hair, I could certainly see what Bob was talking about. The particular grape vine plant I was standing in was massive, with large and ripe red grapes. With the sun shining down and the hint of fall chill to come in the air I honestly wanted to stand in the Hinnant vineyard until the sun went down. I highly recommend doing the pick-your-own and sticking your head in a grape vine... that's how you find the best grapes.

Bob's son is too young yet to show any true interest in maybe one day being the next Hinnant to run the vineyard. But there are many harvests left yet before Bob is ready to step down. Bob's hope, and certainly my hope as a Johnston County native, is that Hinnant Family Vineyards continues to grow and prosper. Much like the grapes growing on the vine every year, only time will tell.

To experience all the Beer, Wine, and Shine that Johnston County has to offer. Try the Beer, Wine, and Shine Trail!