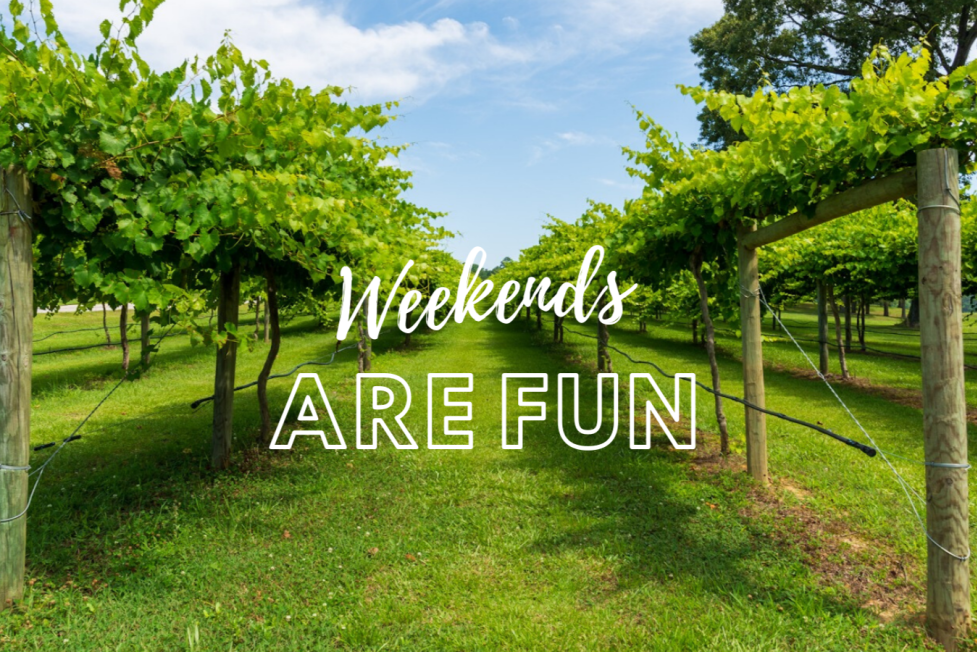 The COVID-19 shelter-in-place mandates have coined some new words in our vocabulary. We know staying closer to home is a staycation, but now folks are seeking a change of scenery for working while sheltered, and even a spot for home-schooling the kids — by now, we all need a change of scenery. In the "olden days", you would say we had cabin fever, but now we have COVID-fatigue.
If staying closer to home this year is your plan and a weekend trip is what you need, we have some "staycation" ideas here in Johnston County.  Or if you want to stay longer and work from JoCo — that's an option too! With our location being just a couple of hours from Greensboro, Wilmington, or Richmond, you can get to our towns within an easy and short drive. Even in time for dinner (take-out, curbside, or delivery are options) on Friday night!
We have culinary trail ideas, history and heritage-themed day activities, and a host of outdoor recreation options.  Here are our Top Ten things to do for a weekend visit to Johnston County for your change of scenery!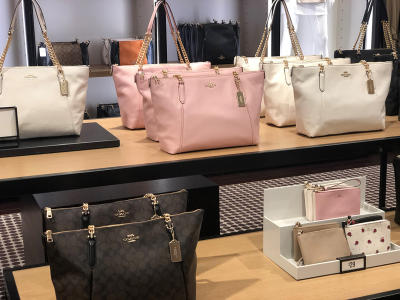 For an in-person shopping experience, (sorry Amazon!) head to Smithfield for some new clothes for the family or a new pocketbook for you, and find great outlet shopping prices at 80 stores. Set your GPS for savings and get great hotel deals at area hotels, click here for 15% off room rates. Ask for the package and get a free gift bag when you check in with more great coupons for area restaurants, attractions, and our downtown shops.
Explore the Beer, Wine, and Shine Trail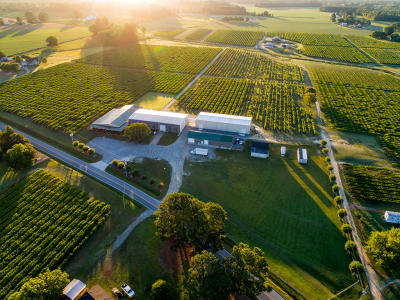 If you love completing a trail and getting a FREE gift at the end, we challenge you to visit all seven stops on the BWST over a weekend trip. Download the brochure and get the boxes stamped -- then get it to the Visitors Bureau and we will send you a gift. And you get to have fun along the way at three breweries, two wineries and two distilleries. Enjoy bands, food trucks and more -- just a bonus! Our area hotels are also offering room discounts for our BWST visitors.
Hollywood Legend - Ava Gardner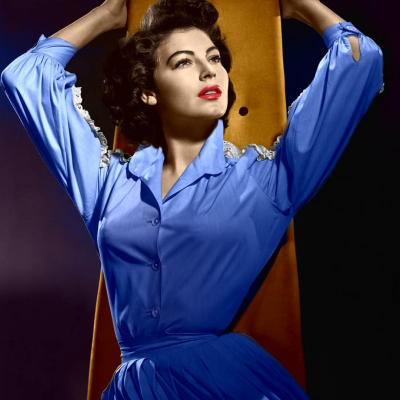 Ava Gardner, a Hollywood legend of the Golden Age, was born and raised in Johnston County. Today, visitors from around the world travel to Smithfield to celebrate her life and career.  The Ava Gardner Museum has an extensive collection of movie memorabilia, including photography, artwork, movie posters, scripts, costumes, and personal belongings. Make a weekend trip to the museum and add in a movie at the historic Howell Theater, shopping local in area boutiques and gift shops, and venturing out to a family-owned winery. For some help with itinerary planning check out our suggestions, and get great hotel deals as well. 
Mountains to the Sea Trail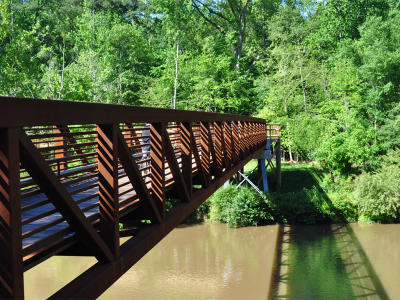 Johnston County now has two sections of the Mountains to Sea Trail, with the trail in Clayton connecting us to Wake County. The Clayton River Walk on the Neuse is a beautiful hike or bike ride along the banks of the Neuse River. In Smithfield, the Buffalo Creek Greenway connects the Smithfield Community Park, where there are playgrounds and the Aquatic Center, to the Downtown Smithfield Commons.  After a 3-mile walk we suggest heading into town for some shopping and dining options.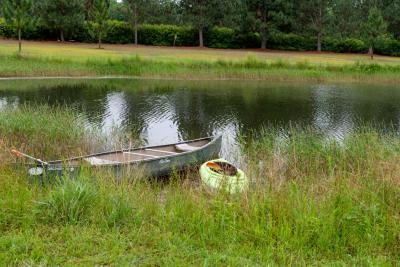 Discover one of our hidden gems in Johnston County, take your family on an outdoor adventure to Howell Woods Environmental Learning Center, just 15 minutes from Four Oaks. This 2,800 acre outdoor classroom offers camping, and ADA accessible cabins, perfect for a family weekend trip. They offer kids activities and playgrounds, a reptile exhibit with an aquarium, a bird of prey exhibit, walking trails, and 25 miles of roads for biking, hiking, and all for exploring this managed forest rich with flora and wildlife. Check the website for a variety of programs and activities. 
Soon the roar of drag-racing cars will return to the GALOT Motorsports Park and special events like Monster Truck rallies will entertain you. We suggest checking their website for event dates. Make it a weekend trip to Benson, to include a stay at the dog-friendly Hampton Inn, shopping, yummy waffles at Cornerstone Café, and sitting outside at the Fainting Goat Brewing Co. - we have a suggested itinerary for you!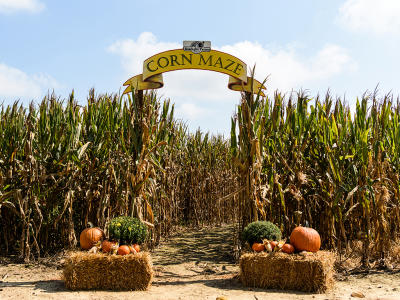 There is much to see and do on our family farms from spring Strawberry Picking season to buying summer fresh vegetables at our farmer's markets, and fall pumpkin-picking season. Also there are tons of fall events like corn mazes, festivals, and holiday light shows. Head to Johnston County with the family for a weekend of fun on the farm. Add in some shopping, following the BBQ trail, or our new Coffee Shop trail, a museum or two, and it's been a fun weekend for all.
Eat your way along the BBQ Trail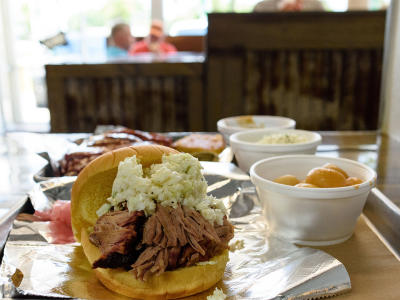 Come for the variety of barbecue experiences now available in Johnston County. Known for our eastern NC style of vinegar-based BBQ, you will love the traditional fare at White Swan, Stormin' Norman's, and Smithfield's Chicken n' BBQ. For a new take on barbecue, Kansas City Competition cue to be exact, we suggest you try The Redneck BBQ Lab. For delicious smoked barbecue entrees, head to SoDoSoPa in Downtown Smithfield or Southern Smokehouse BBQ.  Try some of these dining options, which we think goes perfectly with the Beer, Wine and Shine Trail.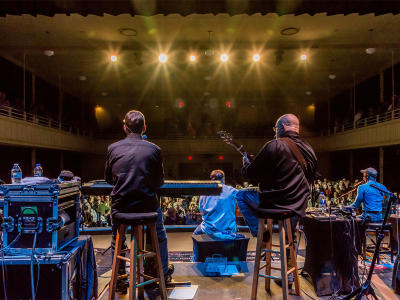 We cannot live a culturally rich life without the arts - and the programs have continued at The Clayton Center throughout the shutdown. One day soon, we will again enjoy comedy, music and performing arts at the Clayton Center, but for now we encourage you to listen in to live performances via their YouTube channel. For a weekend visit to the Town of Clayton, where you can stroll along the Clayton Sculpture Trail, enjoy a sweet trip down Main Street, and get some exercise along the Clayton River Walk on the Neuse River -- we have put together a suggested itinerary to help you plan. Think Clayton, think the Arts!
Shop Our Downtowns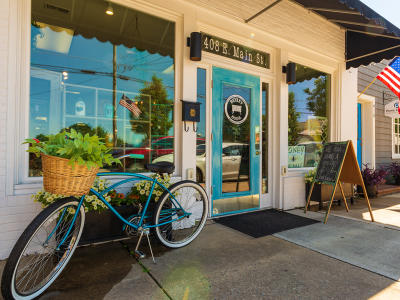 We love to invite visitors to get off the beaten path to explore what our thriving downtowns have to offer. Small business owners are adapting to a new way of doing business and so they need the support of visitors and residents alike. From boutiques, antique shops, vintage & variety shops, and local farmer's markets, there are unique finds for everyone's interests. Check out the variety of shopping available here in JoCo!