As a native of Johnston County, I can say with conviction that what matters most to locals around the holidays is food. It always seemed particularly cruel to me that the Grinch not only took presents and decorations but emptied out the contents of all the kitchens in Whoville. What sort of monster takes the Roast Beast?!

This notion stems from a deep belief I have ingrained in me as a southerner that any obstacle, hardship, or unpleasantness we face shrinks to insignificance when we gather around a table filled with food and good company. And maybe that's not strictly southern, maybe it is simply human. But, our belief that presents and decorations are secondary to the tradition of a holiday meal shared with friends and family is not the only "food tradition" that southerners hold dear.

In fact, a good look at the history of southern hospitality reveals an unwavering notion that food is how you show that you care. When a family suffers a tragedy, when a new neighbor moves in, and on every major holiday, people provide food in support and in solidarity. As we mourn together and celebrate together, Johnstonians know that the best way to say 'I love you' or even 'Merry Christmas' is through providing nourishment - pies, cakes, casseroles, pudding, and, yes, ham.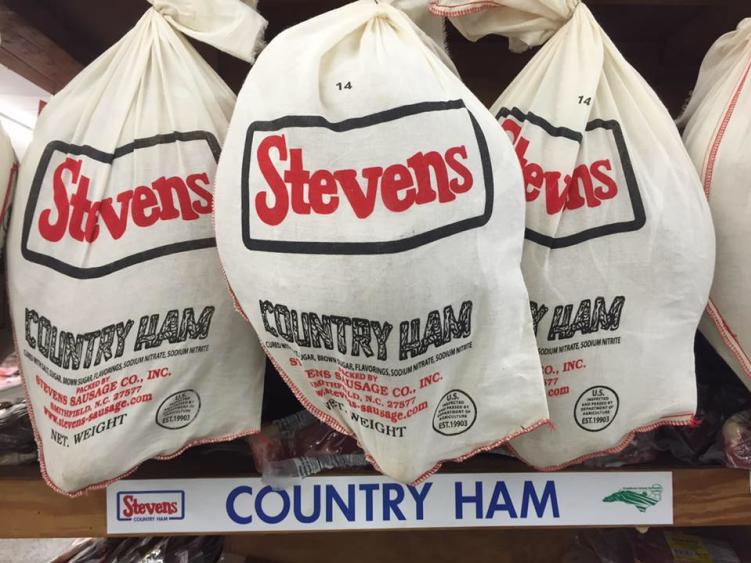 Carolina Packers products (including their famous red Bright Leaf Hot Dogs) can be found at grocery stores across NC year-round. However, during the holidays they offer really wonderful and unique holiday boxes for sale on their website at brightleafhotdogs.com/collections/holiday. It would make a great gift, or be a wonderful way to stock up on everything you'll need for a holiday meal. Boxes vary in size and price but items include spiral sliced ham, country ham slices, smoked sausage, bacon, and more.

Another JoCo staple when it comes to year-round meat products and holiday traditions is Stevens Sausage; family-owned and operated, 70 years in business, 4 generations in Smithfield, with 250 years of family history in the area. Stevens produces thousands of pounds of pork sausage, souse, chitterlings (aka chitlins), and ham slices each week. But, their whole country ham and seasoning meats are what's really popular this time of the year.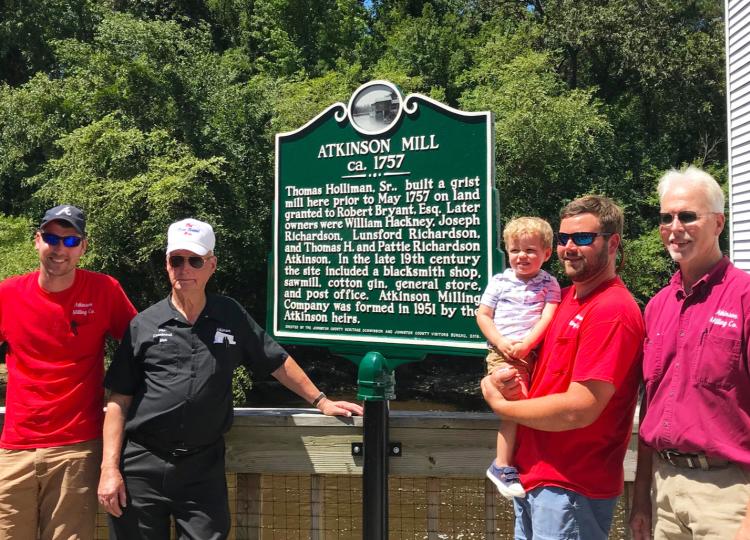 Another family-owned Johnston County establishment catering to our obsession with food is Atkinson Milling Company. Open since 1757, no I did not type a number wrong, and owned by the Wheeler family going on 3 generations now.

I asked Andrew Wheeler, third-generation Wheeler at Atkinson's, to share what Christmas means to his family. He said that Christmas for the Wheeler family is always celebrated on Christmas Eve with the whole family present (now including the 4th generation). The foods that are Wheeler family traditions are fresh greens, macaroni and cheese, a BIG pot of chicken pastry (Atkinson's of course), and hush puppies (obviously Atkinson's as well!). The greens are always grown and delivered that week by Colon and Coy Batten, longtime Wheeler family friends.

"After everyone eats, all 34 of us (yes there are 34 of us and counting, hence the BIG pot of pastry) pile into the living room to open gifts. In recent years Papa has taken over the gifting and it is always a lot of fun to see what he picked out for everyone. He gets all the grandchildren a gas card and a funny gift. It is a treat to laugh at everyone's crazy gifts and his unique spelling of all our names (Papa is known for his inventive spelling). While all the gifting is going on some of the children and grandchildren have a little wrapping paper fight."

Atkinson offers a wide range of cornmeals, biscuit mixes, breaders, and grits. The best product for the holidays, in my opinion, is Atkinson's Cinnamon Flake Biscuit Mix; try using it to make the cinnamon roll recipe on our website here. Atkinson's products are also great as gifts! 

Last year, I was able to sit down and discuss all things food and beverage in JoCo as it related to the holiday season with the NC F&B Podcast. The above products were discussed plus many more. If you're looking for local products, made with love and passion, to give as gifts or cook-up for your family this holiday season, please listen to the episode below for some great ideas! 



No matter your holiday tradition, favorite foods, or family recipes, I hope that you are gathering together with those closest to you this time of year. Click here to enjoy some Thanksgiving-themed recipes from us. Happy Thanksgiving and Merry Christmas from Johnston County! May your new year be filled with happiness, health, and more nourishment than a slice of ham on top of a warm, buttery biscuit.